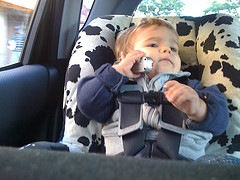 On January 22, 2014, the National Highway Traffic Safety Administration was pushing to raise the standards for safe and effective child car seats. In an effort to put parents at ease, simulation crash testing will be used to demonstrate the reliability of car seats in a side-impact crash.
Car seat manufacturers are hard at work improving their products to protect children across the world. These tests will provide for a proposal of regulations and it's up to you to comment on the adjustments after they are presented this week.
If you like what you see, make it known!
Photo Credit: juhansonin via Compfight cc