Scaffolding Injuries in Raleigh, NC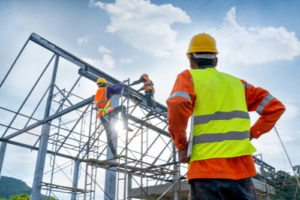 Many construction sites require the erection of scaffolding to reach high levels of structures that are being built, renovated, or painted. When properly erected, scaffolding provides workers safe access to difficult-to-reach work locations, a stable working platform, and temporary storage for tools and materials needed for immediate tasks.
Nationwide, the U.S. Department of Labor estimates that 2.3 million construction workers work on scaffolds. North Carolina cities such as Raleigh, Greensboro, Fayetteville, Wilmington, and Charlotte have numerous multi-story and high-rise buildings. Constructions workers, painters, window cleaners, and maintenance workers routinely work on and around scaffolding. They are at risk of serious or fatal injuries if the scaffolding is improperly supported or collapses.
Workplace deaths in North Carolina nearly doubled in 2014 and construction accidents accounted for nearly half of the total 44 worker deaths in on-the-job accidents, according to a NCDOL release.
In March, for example, three workers who were working on the 11-story Charter Building in downtown Raleigh were killed after the partial collapse of a scaffold. A fourth worker was seriously injured. The North Carolina Department of Labor (NCDOL) is investigating the workplace accident to determine the cause. Choate Construction, the general contractor on the project, said in a statement that the accident involved a mast climber scaffold. As if often the case in construction accidents, those involved worked for multiple companies. Two of the workers killed were employees of subcontractor Juba Aluminum Products' Janawall division and one was an employee of KEA Contracting Inc., according to the Triangle Business Journal. The injured employee worked for Associated Scaffolding.
When workers are injured in scaffolding accidents they deserve workers' compensation benefits without any delay. If a construction company has neglected safety rules and regulations in the erection or use of scaffolding at a construction site, in some cases that contractor or subcontractor may be held liable separately for workers' injuries in a civil action.
The workplace injury attorneys of Hardison & Cochran help construction workers, others injured, and the families of workers who have lost their lives in scaffolding accidents. Let us investigate the specifics of the scaffold accident for you and explain your legal options. If you or a loved one of yours has been hurt, contact us today.
Guidelines for Safe Use of Construction Site Scaffolding
In a recent Bureau of Labor Statistics (BLS) study, 72 percent of workers injured in scaffold accidents attributed the accident either to the planking or support giving way, or to the employee slipping or being struck by a falling object.
Protecting workers from scaffold-related accidents may prevent some of the 4,500 injuries and over 60 deaths every year, the BLS says.
The NCDOL says accidents involving scaffolding mainly include:
Workers falling
Improper scaffolding construction or operating procedures
Environmental conditions (cold and ice, rain, wind, presence of toxic gases, etc.)
Falling materials
Scaffolding failures at attachment points
Parts failure, including from overloading of scaffolding
Inadequate fall protection
Inadequate work rules.
About 35 percent of workplace fatalities in the construction industry are because of falls, according to federal statistics. Falls from scaffolds or being hit by objects falling from scaffolds can also cause serious personal injuries, such as:
Traumatic brain injury (TBI)
Spinal cord injuries (paralysis)
Internal organ injury
Fractures (broken bones)
Severe lacerations (deep cuts).
Individuals exposed to scaffolding hazards include scaffold erectors and dismantlers, personnel working on scaffolds, and employees and the general public near scaffolding. Scaffold erectors and dismantlers are at particular risk, since they work on scaffolds before ladders, guardrails, platforms, and planks are completely installed.
The NCDOL says safe scaffold erection and use should begin by developing appropriate policy and work rules. They should concentrate on:
Proper design. The scaffold should be capable of supporting its own weight and at least four times the maximum intended load to be applied or transmitted to the scaffold and its components. It may be necessary to consult an engineer about complex scaffolding systems to determine heavy-load points.
Training personnel. Training should include a review of the specific scaffolding system and its proper use, as well as the fall protection installed on the scaffolding, particularly guardrails, and the proper selection, use, and care of personal fall-arrest equipment.
Providing fall protection. Employers must ensure that workers have the appropriate safety equipment available to them. Depending on the type and height of scaffolding in use, this may include a hard hat and full body harness, with lanyard, rope grab, independent vertical lifeline, and an independent lifeline anchorage.
Construction companies and scaffolding vendors should have established guidelines for proper erection, use, alteration, and dismantling of scaffolding. Supervisors in charge should have the skill, experience, and training to ensure safe installation and dismantling according to the manufacturer's specifications.
Workers' Comp and Third-Party Claims in Scaffolding Accidents
OSHA and NCDOL regulations and guidelines pertaining to the use of scaffolding at construction sites are known in the construction industry, as is the necessity of adhering to safety standards. Scaffolding accidents typically occur when a contractor or work site superintendent tries to cut corners to save time and money, and scaffolding is improperly installed or dismantled.
When an occupational accident causes injury, the North Carolina Workers' Compensation program should cover a worker's total medical costs and a portion of lost income. In the case of a workplace death, the N.C. workers' compensation program provides monetary benefits to surviving dependents, such as the worker's spouse and children.
Workers' compensation is a no-fault insurance program. Benefits are provided regardless of who caused the accident. In exchange, the worker is not allowed to sue their direct employer for additional compensation.
However, if a party other than the employer is responsible for the worker's injury, the injured worker or the worker's family may pursue a separate personal injury or wrongful death claim. This option is often available in scaffolding accidents when scaffolding is supplied and erected by a different company than the primary employer on a construction site. A third-party claim could seek compensation for pain and suffering, lost income, and additional losses above and beyond what workers' compensation insurance provides.
We have found in our representation of many injured workers that few people are familiar with workers' compensation's limits and the option available to some injured workers and their families to pursue third-party personal injury claims. We are here to help those workers obtain justice for occupational injuries that put them in the hospital and out of work.
Contact Hardison & Cochran for Full Scaffolding Accident Compensation
The workplace accident attorneys of Hardison & Cochran have the knowledge and skill to help you pursue all of the compensation available after a scaffolding accident. We will work to ensure you obtain full workers' compensation benefits and help you pursue any additional compensation available through a third-party lawsuit to assist you during your recovery.
Contact Hardison & Cochran toll-free at (800) 434-8399 or fill out our online contact form for legal assistance. You'll get a response within 24 hours because we take every workers' compensation claim seriously. Let us help you today.
Additional Information: