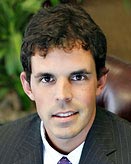 Adam Bridwell, a workers' compensation attorney at Hardison & Cochran, has recently earned a Board-Certification in North Carolina Workers' Compensation Law. The "Board-Certified" title is given to those North Carolina lawyers who must meet the following requirements:
(1) the applicant must be licensed and in good standing to practice law in North Carolina;
(2) the applicant must be substantially involved in the practice area, usually for a minimum of five years;
(3) the applicant must take a certain number of continuing legal education credits in the specialty area during the three years prior to application;
(4) the applicant must make a satisfactory showing of qualification in the specialty through peer review
(5) the applicant must achieve a satisfactory score on a written examination in the practice area.
Bridwell now joins workers' compensation attorneys Ben Cochran and Jack Hardison as NC Workers' Compensation board-certified attorneys at Hardison & Cochran.
Now, all current workers' compensation clients and future clients will have a North Carolina Board-Certified attorney working on their claim.
In addition to the whole workers' compensation holding a board-certified distinction, Hardison & Cochran Social Security disbaility attorney, Blair Biser, holds a Board-Certification in Social Security Law.