Common Injuries for Stock Room Employees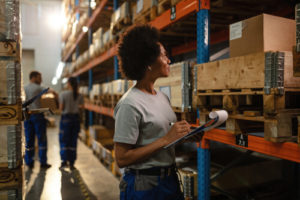 Stock Room Employee Injuries in North Carolina
Stock room employees are susceptible to back and shoulder injuries from lifting, pushing and pulling merchandise. Stock room employees are also injured in falls from ladders, from objects falling on them and in other ways.
When a stock clerk is injured, the employee's workers' compensation insurance should provide benefits that cover medical expenses and part of the wages lost wages while he or she recuperates.
When a workers' compensation provider does not pay the benefits an injured stock room employee needs, the workplace injury lawyers of Hardison & Cochran can help. We fight to protect injured workers' rights and strive to ensure they are properly compensated for on-the-job injuries and illnesses. If you need our help, call (800) 434-8399 or contact us online for a free initial consultation.
Stockroom Employees and Musculoskeletal Injury
A stockroom employee, in most cases, has a physically demanding job. Moving merchandise in and out of storage typically requires workers to lift and lower items to or from stockroom shelves. These items include heavy packages or objects. This may involve reaching, stretching, twisting and/or bending. Workers can find themselves in physically stressful positions.
A stockroom employee may also climb ladders and/or operate carts, dollies, hand trucks, forklifts and other equipment or vehicles to access and move items.
The U.S. Bureau of Labor Statistics (BLS) says musculoskeletal injuries – sprains, strains and tears involving muscles, tendons, nerves, bones and other soft tissue – accounted for 33 percent of all of the workplace injury and illness cases reported in 2011.
Stock room employees were among the six occupations accounting for 26 percent of the musculoskeletal injury cases in 2011, joining janitors and cleaners, laborers, heavy and tractor-trailer truck drivers, nursing assistants and registered nurses.
The BLS reports that stock clerks and order fillers lost a combined 10,250 workdays in 2011 due to musculoskeletal injuries and illnesses.
Our Lawyers Seek Compensation for Injured Stock Room Employees in North Carolina
Workers' compensation insurance should pay your medical bills and replace a portion of your wages if you are a stock room employee who has been injured on the job. Workers' comp also pays a death benefit to the family of a worker who dies in a workplace accident.
You may also consider whether a third party may be liable for a workplace accident. For instance, if a unit of shelves collapsed, maybe the company that sold or installed the unit is responsible for the product's failure. Third-party claims for compensation require a finding of fault, which may be demonstrated through evidence collected after an accident.
At Hardison & Cochran, our attorneys can help you to obtain a workers' compensation settlement or award if you have been injured or have lost a loved one in a stock room accident. We can help before you file a claim to make sure it is complete, or we can help you during the appeals process. We can also review the circumstances of your injury to assess whether compensation should be sought from a third party.
To find out more about how we can assist you, contact Hardison & Cochran today by calling (800) 434-8399 or submitting our online contact form. We'll response within 24 hours and review your case and your legal options in a free initial consultation.
Sources: