Common Work Injuries for Truck Drivers in North Carolina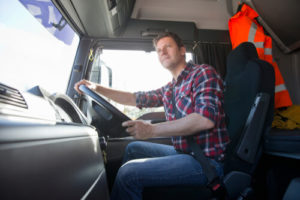 The Federal Motor Carrier Safety Administration (FMCSA) estimates that there are roughly 17 deaths and 7 non-fatal workplace injuries per 100,000 workers in the transportation, warehousing and utilities sectors. This means that thousands of workers suffer injuries and deaths each year in the trucking industry, including many in North Carolina. Indeed, statistics show that more than 2,163 tractor-trailer fatal accidents occurred in our state in 2020 alone.
If you are truck driver, an injury can end your career and leave you coping with medical bills and financial uncertainty. Fortunately, North Carolina laws are in place to protect you and your family if a serious accident occurs while you are working.
At Hardison & Cochran, we understand what you are going through after a trucking injury. We also know how important it is for you to get the money you need to care for yourself and your family while you recover. We have extensive experience with all types of truck accident claims and with the different methods of obtaining work injury compensation for truck drivers.  We want to put our legal knowledge to work for you.
Simply call (800) 434-8399 or contact us online today to schedule a free review of your case. We'll respond to your inquiry within 24 hours and arrange a meeting to learn more about your accident and to help you to sort through the options available to you.
Trucking Industry Risks
Generally speaking, injuries among truck drivers in North Carolina fall within the following categories:
Musculoskeletal disorders (MSD) of the neck, back and upper extremities – These issues can be caused by loading or unloading the truck or lifting boxes, cartons, containers, garbage cans, tanks or bins. They can also arise when using vehicle dollies or loaders and working on vehicle tires. The majority of MSD claims occur as a result of overexertion during the loading process.
Falls from elevations – Falling from vehicles, falling on stairs and falling into openings are all possible causes of workplace injury for truckers. These injuries can occur when making deliveries on upper floors, exiting the truck or stepping into holes at loading or unloading areas. The most common causes of injuries related to falls from elevations are knee and back sprains that occur when falling out of a vehicle.
Falls on the same level – Theses injuries can occur when lifting the latch on the back of the truck, putting on tire chains or unloading the truck. Back and knee sprains are the most common injuries caused by falls on the same level.
Injuries due to being struck by or against objects – Workers can be struck by or against objects when lifting hitched trailers, opening containers and attaching trailers to trucks. The objects that a worker may hit or be hit by include vehicle parts, lift-gates, winch bars, pallet jacks, boxes or cartons or binders and chains. The most common injuries caused by being hit or struck by objects are back sprains and strains that occur when boxes or cartons fall on the driver.
Vehicle-related injuries – More than half of all truck driver fatalities are caused by vehicle-related injuries. Workers may be hurt when they lose control of the vehicle or when they collide with another car.  Workers are at risk not only of getting hurt in a car accident but also of being rolled over by their own vehicle.
Truck drivers who perform different types of work face different injuries. For example, truck drivers delivering to residential areas may be at risk of slipping and falling when walking up to someone's porch to make a delivery. Those driving industrial trucks may be more likely to suffer injuries due to problems with loading and unloading heavy materials or problems with malfunctioning lift gates.
Every truck driver, however, has a physically demanding job that can take a toll on the body. Unfortunately, not only is there a high risk of injury, but the labor-intensive nature of trucking jobs often means that an injury ends a career.
Your Options After a Trucking Injury
When you suffer an injury on the job, there are two primary ways that you can take legal action. Your options include:
Filing a workers' compensation claim – Workers' compensation is the only way to get compensation from your employer for a work injury. As long as you are not an independent contractor, you should be able to file a workers' compensation claim when you are hurt as a result of your truck driving job. Workers' compensation provides broad coverage, so you can file a claim even if your employer wasn't careless or negligent in any way. You can also file a claim not only if you are hurt in an accident but also if you develop a repetitive stress injury or an illness as a result of being exposed to hazardous material, such as HAZMAT materials that you were transporting. These benefits include payment of your medical bills and costs. They should also cover partial lost wages if you need to miss work or if you are temporarily or permanently disabled.
Filing a personal injury lawsuit against a third party – You cannot sue your employer after an injury on-the-job because of workers' compensation rules. However, if there was someone besides your employer responsible for your injuries then you may be able to file a personal injury claim. This could include, for example, a property owner whose property you slipped on while making a delivery or the manufacturer of a truck that had a bad design or faulty brakes. You could also take legal action and file a personal injury claim against another driver who caused you to be involved in a traffic accident. Third-party injury lawsuits can make it possible to be compensated for things that workers' compensation doesn't cover, such as payment for pain and suffering caused by your injury. However, you need to prove that someone was negligent or that someone failed to live up to his or her responsibilities to you in order to be able to file a personal injury lawsuit.
Our Attorneys Help Injured Truck Drivers
At Hardison & Cochran, our attorneys know how an injury at work can change your whole life. Our goal is to make sure that your injury doesn't cause you financial or emotional stress. You can focus on getting better and trust us to seek the maximum compensation for you and your family.
To learn more about how we can help after your truck driver injuries, give us a call at (800) 434-8399 or complete our online form today.
Sources:
Heavy and Tractor-trailer Truck Drivers, Bureau of Labor Statistics
Lifestyle Risk Factors in Commercial Drivers, Federal Motor Carrier Safety Administration
North Carolina Traffic Crash Facts, N.C. Department of Transportation