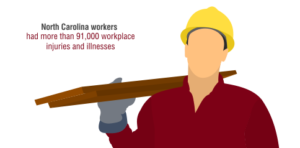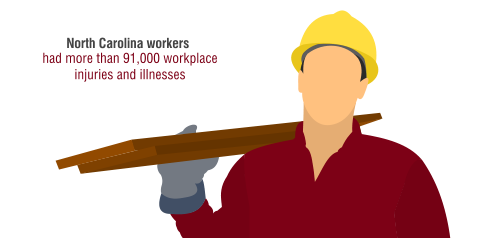 No worker goes to work expecting that he or she will be injured in a workplace accident that day. Yet every day, many workers are injured. North Carolina workers had more than 91,000 workplace injuries and illnesses in a single recent year, according to the Bureau of Labor Statistics. Half of the reported North Carolina workplace accidents and illnesses required days away from work, restrictions on work duties or job transfers.
North Carolina's workers' compensation system provides workers who are hurt on the job with paid medical care and financial aid to help the workers recover. The benefits include medical benefits, disability compensation for temporary and permanent disabilities, and death benefits for next of kin.
North Carolina's rate of 2.7 injuries and illnesses per 100 workers in private industry in a recent year was lower than the national rate, according to the Bureau of Labor Statistics.
Still, certain types of on-the-job accidents occur frequently and are commonly cited in workers compensation injury claims in North Carolina and other states. Here are the 10 leading occupational injuries:
1. Overexertion Injuries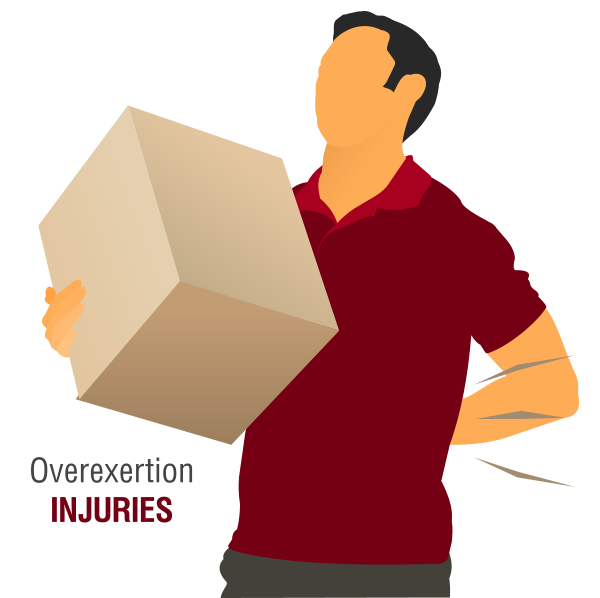 Workers whose job involves lifting, pushing, or pulling may force cause a joint to move beyond its normal range of motion and cause an overexertion injury. Strains and tears are the leading type of injury for both men and women, according to the U.S. Department of Labor. This is a common injury among factory workers, construction workers, material movers, commercial truck drivers, nursing assistants and other jobs where physical force is required.
2. Trip and Falls
Workers frequently slip on wet or slick floors or walkways at a workplace. Grocery store workers and health care workers are susceptible to slips and falls if a spill has occurred on the floor. Restaurant workers may loose their footing on freshly mopped floors. Learn more on how you can stay safe from slips and falls in the workplace.
3. Falls to Lower Level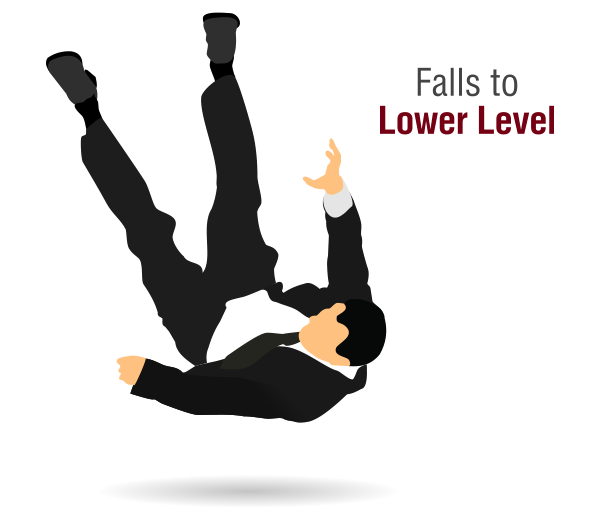 A fall from a ledge, ladder or scaffold or fall down a stairs can cause serious injuries including head injuries, back injuries and broken bones. Falls from elevations led to 25 percent of workplace accidents causing fatal injuries in North Carolina. Construction workers, maintenance workers and other workers who work from heights are susceptible to fall injuries. Learn the 5 Most Common Construction Site Injuries.
4. Bodily Reaction
A bodily reaction injury occurs when a worker reacts suddenly to avoid a mishap, but still sustains a twist or sprain in the incident. Bodily reaction injuries and overexertion represent 35 percent of workplace injuries, according to the Department of Labor. Laborers and nurses are occupations that are particularly susceptible to bodily reaction injuries.
5. Hit by an Object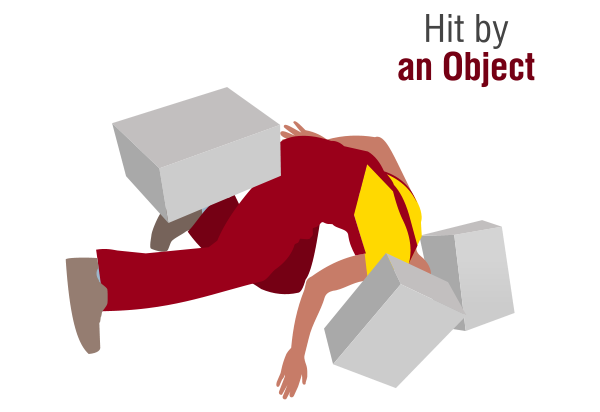 If a box falls off a shelf, cargo falls while being lifted or a worker on a ladder or platform drops a tool, a worker standing below may sustain a serious head injury from being struck by an object. Being struck by an object caused 43 percent of the fatal workplace accidents in North Carolina in 2014. It was the most common cause of fatal workplace accidents.
6. Falling into an Object
Workers can be seriously injured if they fall or are pushed into an object such as wall, equipment or shelving.
7. Vehicle Accidents

Many workers drive on the job. Accidents may involve commercial truck drivers, delivery drivers, movers, police officers and sales representatives. Traffic accidents are one of the leading causes of serious injuries and deaths for workers whose jobs include driving.
8. Machinery Accidents
Heavy machinery and equipment in factories and manufacturing plants can entrap a worker's hand, arm, leg or foot and cause a crushing injury, mutilation or loss of a limb. These traumatic accidents often result in quite serious injuries and may involve substantial medical treatment costs and leave a worker with permanent disabilities. Machinery should have all the safeguards in place and be well maintained, and workers should be trained to operate the equipment safely.
9. Repetitive Stress Injuries
Repetitive stress injuries cause occur among workers including assembly line workers, food processing plant workers, and workers who sit at a computer all day, whose jobs require them to perform a repetitive motion again and again. Repetitive stress injuries cause damage to muscles, tendons, nerves and spinal discs. They may cause arm and hand pain, neck and shoulder pain and back pain. If you operate heavy equipment, twist your back to reach your work, lift materials, or use hand tools, you may be susceptible to a repetitive motion injury.
10. Workplace Violence
Workplace violence can occur to anyone at any time. It ranges from verbal abuse to physical assaults and fatal attacks. According to the U.S. Department of Labor, homicide is the fourth leading cause of fatal workplace injuries in the United States and the top cause of death of women in the workplace. Certain factors increase the likelihood of an injury caused by workplace violence such as exchanging money with the public, working where alcohol is served, work alone in isolated areas, and working with volatile, unstable people such as in a mental hospital or prison. Delivery drivers, healthcare professionals, public service workers, customer service agents,
Talk to a North Carolina Workers' Compensation Lawyer
If you have been injured on the job in North Carolina, it's important to consult with a knowledgeable workers' compensation attorney. In some cases, you may be entitled to seek compensation through a third party lawsuit against an outside party in addition to receiving workers' compensation benefits. A case review will only cost a few minutes of your time.
Sources: