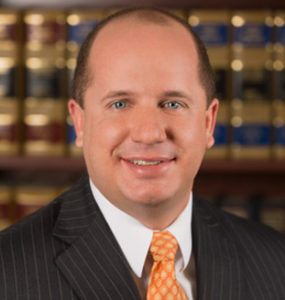 Raleigh, North Carolina—Attorney John Paul Godwin of Hardison & Cochran, Attorneys at Law has obtained a $1.3 million settlement on behalf of a woman who was seriously injured in a car crash in Durham.
The victim sustained injuries to both ankles in the car crash requiring surgery. However, as a result of the trauma, she subsequently required amputation of her right leg below the knee.
"I'm grateful for the opportunity to help my client and her family in this extremely difficult situation, and am very pleased that we are able to secure significant compensation for her," Mr. Godwin said. "For me personally, it was inspiring to watch her battle through her recovery process while maintaining such a positive outlook."
Mr. Godwin, who has obtained a number of substantial recoveries for his clients, developed evidence in this case to show the suffering that his client had endured physically and mentally, as well as evidence showing her future medical and accommodation needs.
"One of the main challenges in the case was not only demonstrating her past damages, but also calculating and presenting her future needs as well," Mr. Godwin added. "It was critical that we demonstrate the lasting affect her injuries would have."
The personal injury attorneys at Hardison & Cochran work tirelessly for those who have been seriously injured through the negligence of others to receive the full compensation they need and deserve.
Last year, attorney Jackson Hardison, a partner at Hardison & Cochran, secured a $3.5 million in a workers' compensation case for a man who was paralyzed in a tree cutting accident and whose claim had initially been denied. The legal newspaper North Carolina Lawyers Weekly recognized the settlement as the 12th largest in North Carolina in 2015. Read more about that worker's compensation settlement by clicking here.
About Hardison & Cochran, Attorneys at Law
Hardison & Cochran, Attorneys at Law, is a highly regarded North Carolina personal injury, workers' compensation and Social Security Disability law firm with offices in Raleigh, Durham, Fayetteville, Dunn, Southern Pines and Wilmington. The firm's practice areas include car accidents, truck accidents, motorcycle accidents, boating accidents, dog bites, dangerous drugs, defective medical devices, and nursing home abuse and negligence. For more information, call the firm toll-free at (800) 434-8399 or use the firm's online contact form.