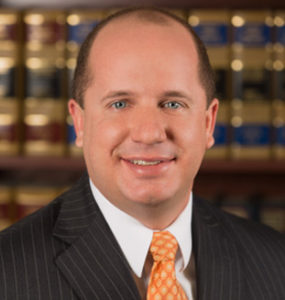 Hardison & Cochran, Attorneys at Law is pleased to announce that attorney John Paul Godwin has been elevated to partner at the law firm.
Mr. Godwin focuses his legal practice on plaintiff's personal injury cases and has obtained a number of substantial settlements for injury victims.
As a personal injury attorney, he views his primary responsibility as legal advocacy on behalf of clients. At the same time, Mr. Godwin recognizes that many injured people rely on their lawyer to be a general counselor, who will offer compassion and emotional support regarding the struggles the client is experiencing.
"John Paul Godwin reflects the effective and client focused legal representation we strive to provide clients at Hardison & Cochran," said Benjamin T. Cochran, managing partner of Hardison & Cochran. "We congratulate him on being named a partner."
Mr. Godwin graduated from the University of North Carolina at Wilmington in 2006, with a B.A. in history. He obtained a Juris Doctor from the Norman Adrian Wiggins School of Law at Campbell University in 2010.
Inspired by the example of his stepfather who has a general law practice in Dunn, North Carolina, Mr. Godwin became interested in the field of law while in high school. As a second- and third-year law student, Mr. Godwin worked as an intern and law clerk at Hardison & Cochran and joined the firm after graduating from law school.
Mr. Godwin is active in the Raleigh Chamber of Commerce and in the Young Lawyers Division and the Professionalism Committee of the Wake County Bar Association. He also is active in Grove Presbyterian Church in Dunn and coaches the Triton High School moot-court team, which won a regional championship in 2015.
Hardison & Cochran, which has grown from one office in Dunn to seven offices across North Carolina, was recently named to the 2018 Best Law Firms list in the annual rankings by U.S. News and Best Lawyers® for the fourth year in a row.