Common Injuries for Mechanics in North Carolina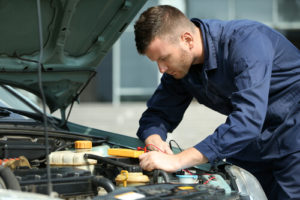 There's a reason for the "Employees Only" sign at your local automotive shop. Mechanics work in a hazardous environment. Every day, they risk injury from falling, being struck by objects falling on them, touching engine parts that burn them or other injuries that commonly result from working around power tools, equipment and machinery.
Most mechanics in North Carolina should be covered by their employer's workers' compensation insurance. If a mechanic becomes injured or ill on the job, this insurance should pay for the worker's medical bills and a portion of their lost wages due to a temporary or permanent disability. In some cases, a lawsuit against a non-employer may be warranted.
Unfortunately, many mechanics must fight for the benefits they deserve. Some employers and their insurance companies dispute workers' claims. If this has happened to you, Hardison & Cochran can help you fight back and seek the benefits you deserve. Call us at (800) 434-8399 or contact us online to set up a free initial consultation today.
Risks Faced by Mechanics
Mechanics are more likely than the average worker to be injured or killed on the job, according to the U.S. Bureau of Labor Statistics (BLS).
Being struck by or against such objects and equipment as vehicles, engine parts and tools or being caught in equipment or machinery are the most common sources of work-related injuries and deaths among mechanics, the BLS reports. In many cases, car parts, power tools and equipment are hot. Many car mechanics are killed because a car falls off a lift, rack or jack.
Common mechanic injuries:
Contact with these objects can cause burns to a mechanic's fingers and hands.
Strains caused by overexertion while lifting objects like tires and wheels, engine parts and accessories, according to the BLS. Mechanics also suffer strains as they assume awkward bending or twisting postures to reach engine parts in cars and from holding and working with power tools for lengthy periods.
Floors and stairs in mechanics' shops can be made slippery by spills of oil, grease, gasoline, water or other substances. This can lead to slip-and-fall accidents. Tools and equipment left out in a mechanic's work bay can also cause trip-and-fall accidents.
Assaults and violent acts also cause a higher rate of fatal injuries among mechanics when compared to other occupations, the BLS reports.
Our Lawyers Seek Compensation for Injured Mechanics in North Carolina
If your work as a mechanic was the direct cause of your injury or illness, you can claim workers' compensation benefits. Workers' compensation does not require you to show that anyone caused your injury.
These benefits are available to:
Reimburse you for medical expenses
Provide money to make up for a portion of your lost earnings while you recover
Cover a portion of the difference if you must return to a job that pays less.
In some cases, an injured mechanic may sue a non-employer third party, such as the manufacturer of defective equipment or automotive parts, who was responsible for a workplace injury. Such a claim requires you to prove that the third party was somehow at fault in causing your injury.
At Hardison & Cochran, our workplace injury attorneys help mechanics employed in North Carolina to seek the workers' compensation benefits they deserve for an occupational injury or illness. We can assist you at any point in your workers' comp application or appeals process. We can also help you to determine whether a third party may be liable for your illness or injury. We will vigorously pursue all avenues of compensation available to you for an occupational injury or illness.
Schedule a free case review today. Call Hardison & Cochran at (800) 434-8399 or use our online contact form to schedule a free, no-obligation review of your case.
More Information:
Occupational Injuries, Illnesses, and Fatalities to Automotive Service Technicians and Mechanics, U.S. Bureau of Labor Statistics
Testimonials:
"The firm is excellent they take good care of your case, very reliable to the point that they are taking care of your case without you even have to stress your mind about it because they got it, the fees are reasonable and lawyers have a good communication skill with their client. Receptionist Sherlisa (hope I spelled it right) is a very welcoming genuine and attentive lady. If I could I could give the Hardison and Cochran a ten star I would and I would make them my family lawyers."
-Nayle Herrera