Raleigh Reflex Sympathetic Dystrophy Lawyers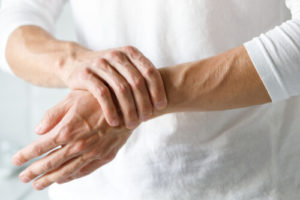 Many Americans are living with a painful and debilitating condition called reflex sympathetic dystrophy (RSD), also known as complex regional pain syndrome (CRPS). While 10-20 percent of sufferers cannot pinpoint the cause of their RSD, others develop the disease following an on-the-job injury or accident. RSD is challenging and extremely expensive to treat, but the financial burden in many cases can be eased by obtaining workers' compensation benefits from your employer. However, that may not be as easy as it sounds. If you're having a difficult time getting your employer to pay, you should seek advice from an experienced workers' compensation attorney as soon as possible. Our North Carolina RSD lawyers can help.
Talk with the North Carolina injury and workers' compensation lawyers at Hardison & Cochran today. Our attorneys have a history of successfully representing clients with RSD and other personal injuries throughout the state, including Raleigh, Cary, Durham and Fayetteville, NC..  To learn how we can help you, call 800-434-8399 or fill out our online form for a free case evaluation.
What You Should Know About RSD
Reflex sympathetic dystrophy is not a well-understood illness. In general, it can be described as a multi-symptom syndrome that primarily affects the body's extremities. However, RSD can impair virtually any part of the body and require extensive rehabilitation and no promise of a full recovery.
Doctors have identified that RSD is commonly triggered by an injury to a nerve or soft tissue that does not heal normally. According to the National Institute of Neurological Disorders and Strokes, roughly 2-5 percent of people who sustain some sort of peripheral nerve injury and anywhere from 12-21 percent of people with partial paralysis following an accident develop RSD as a complication. Although many workplace accidents can result in such trauma, even the slightest of work-related illnesses can lead to RSD. Other factors associated with the disease include trauma, heart disease and heart attack, cervical spine or spinal cord disorders, cerebral lesions, infections, surgery and repetitive motion disorder.
Left untreated, the disease can spread and lead to permanent deformities, chronic pain and psychological and psychiatric problems, including an addiction to narcotics and other painkillers.
RSD Diagnosis: Not Simple, But Legally Important
The symptoms of RSD are not identical in in every patient. Doctors must often rule out other potentially life-threatening disorders that may have symptoms similar to RSD, such as heart attacks, blood clots, herniated discs, carpal tunnel syndrome or even a breast tumor that has spread to the lymph glands. Major nerve damage associated with the development of RSD is called causalgia, commonly characterized by numbness and weakness in the affected areas.
The diagnosis of RSD can be made when there is a history of trauma to a certain part of an area associated with severe pain, plus one or more of the following:
Abnormal function of the sympathetic nervous system
Swelling
Movement disorder
Changes in tissue growth
The pain and symptoms of RSD may exceed both the magnitude and duration of symptoms expected from the normal healing process expected from an injury.
It is important for there to be objective findings to support an RSD diagnosis when making a legal claim to workers' compensation benefits. It is not uncommon for defendants to accuse patients of faking their condition when there are not concrete findings. Thankfully, physicians do have objective measures that can support your RSD claim in court. For example, one common method is to measure a patient's temperature with a portable infrared thermometer to measure differences in skin temperature and skin color.
Common Signs of RSD
Pain – The first and primary complaint occurring in one or more extremities is described as severe, constant, burning and/or deep aching pain.
Skin changes – The skin may appear shiny, dry or scaly. Hair may grow coarse and thin. Nails in the affected extremity may be more brittle and grow at abnormal rates.  RSD is associated with a variety of skin disorders including rashes, ulcers and pustules.
Swelling – Pitting or hard edema is usually localized to the painful and tender region.
Movement disorder – Patients with RSD have difficulty moving because of pain, stiffness, tremors, involuntary severe jerking or sudden and incapacitating cramps. Psychological stress can exacerbate these symptoms.
Spreading Symptoms – Initially, RSD symptoms are generally localized to the site of the injury (usually an extremity). As time progresses, the pain and symptoms tend to spread.
Bone changes – X-rays may show wasting of bone. Additional bone scans may show an increased or decreased uptake of a certain radioactive substances in bones after intravenous injection.
The duration of RSD varies. In mild cases it may last for weeks followed by remission, but in many cases the pain continues for years and in some cases, indefinitely.
Managing Your RSD Symptoms
Once you have been diagnosed with RSD, your doctor will define the potential benefits and risks of treatment alternatives. The goal will be to encourage normal use of the affected areas, minimize pain and determine the role of the sympathetic nervous system in causing your pain. That often begins with physical therapy.
A formal psychological evaluation should also be initiated early in the course of treatment for RSD. Medications are generally prescribed according to various characteristics of the patient's condition, including chronic pain, sleep problems, inflammatory pain or pain due to recent tissue injury, spontaneous jabs, sympathetically maintained pain and muscle cramps.
Contact Our North Carolina RSD Workers' Comp Attorneys Now
The Raleigh law firm of Hardison & Cochran handles many  injury and workers' compensation cases in North Carolina for sufferers of RSD or CRPS. If you or a loved one needs an attorney to evaluate your claim, arrange for a free consultation with one of our lawyers today. Fill out our online contact form or call 800-434-8399 now.