Motorcycle Accident Lawyer in Fayetteville, NC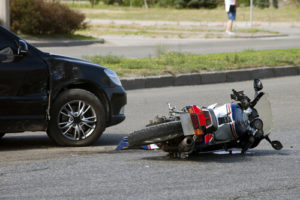 Among North Carolina's counties, Cumberland County, the home of Fayetteville, ranked third for motorcycle crashes from 2017 to 2021, according to the North Carolina Highway Patrol. The county recorded 1,553 motorcycle crashes in that four-year period, trailing only the much larger counties encompassing Raleigh and Charlotte.
A motorcyclist who has been injured in an accident caused by another driver may be entitled to seek compensation for medical expenses, lost wages, pain and suffering, and more. A motorcyclist's family members may be eligible to claim compensation after a fatal motorcycle accident. People often jump to conclusions after a motorcycle accident and blame the rider. But the Fayetteville motorcycle accident lawyers at Hardison & Cochran know that this is a mistake.
We're ready to fight for your right to claim just compensation if you've been injured in a motorcycle accident caused by another driver's negligence in Fayetteville, N.C. Call the experienced motorcycle accident attorneys at Hardison & Cochran toll-free at 800-434-8399 or fill out our online contact form. We'll respond within 24 hours, and your initial consultation is always free.
Common Injuries After a Motorcycle Accident
Motorcycle riders lack the protection of an enclosed passenger compartment. In an accident, a motorcycle rider is much more likely to be seriously injured than occupants of an automobile are. A motorcycle rider is subjected to the initial impact of the collision plus the secondary impact of being thrown off the motorcycle to the pavement or ground.
Common motorcycle accident injuries include:
Traumatic brain injuries
Head and facial injuries
Broken bones
Herniated discs
Spinal cord injuries and paralysis
Internal organ injuries and internal bleeding
Sprains, strains, and soft-tissue tears
Lacerations and abrasion injuries
Crush injuries
Amputation
Why Do Motorcycle Accidents Happen in Fayetteville?
Four-wheeled motorists often claim after getting into a motorcycle accident that they didn't see the motorcycle. It's true that the comparatively small size of a motorcycle creates visibility issues. But a driver's failure to remain alert for other vehicles including motorcycle riders in traffic may constitute negligence.
Failure to adequately check for motorcyclists is dangerous and often leads to motorcycle accidents when motorists:
Execute left-hand turns. Drivers waiting to turn left at intersections often misjudge the speed of an approaching motorcycle and turn in front of the motorcycle, causing a collision.
Change lanes. Drivers who fail to check rearview mirrors and blind spots can sideswipe a motorcycle when merging into an adjacent lane.
Pull away from side streets, alleys, or parking lots. Some motorists are unable to correctly judge the speed of an oncoming motorcycle, prompting them to pull out in front of a motorcyclist who does not have room to stop or swerve to avoid an accident.
Motorists tend to misjudge how much faster a motorcycle comes to a stop compared to a car. Too many cars and trucks follow motorcycles too closely, which leads to rear-end motorcycle accidents when motorcyclists slow or stop their bikes.
These driver errors in traffic are more likely to occur when drivers compound their negligence by:
Distracted driving
Drunk driving
Drowsy or fatigued driving
Speeding
Aggressive driving
Hazardous road conditions present a significant risk to motorcycle riders. Potholes, uneven lanes, pooling water, loose gravel, and similar problems with roads can wreck a motorcyclist. In some motorcycle accidents, the government agency or contractors responsible for maintaining the road may be held liable for the motorcyclist's injuries.
A number of motorcycle accidents are caused by problems with the bike. If a defective design or problem in the manufacturing process results in a mechanical failure that causes an accident, the manufacturer or distributor may be held liable.
What To Do After a Motorcycle Accident in Fayetteville
After a collision with another driver or rider while on a motorcycle, it is important to protect your ability to pursue compensation for your injuries. If you are able, you should:
Contact police. Report your accident by calling 911. Fayetteville police will record the basic facts about the accident in a police report and ticket a driver or rider who they believe has violated the law. A police report is typically the basis of an insurance claim. Do not let anyone talk you out of reporting a motorcycle accident. Ask the police how to get a copy of the report and do so as soon as it is available.
Get medical care. If you need emergency care, request an ambulance when you call 911. Regardless of how you feel, see a doctor within 24 hours of the crash. Numerous serious injuries do not present strong symptoms right away. In addition to receiving medical care, a doctor's exam creates a record of your injuries and treatment if you need to file an insurance claim later.
Cooperate with the police. Get your license, registration, and proof of insurance together for the police, who will add them to their report. Don't discuss the accident with the other driver. When speaking to police, answer questions honestly but do not make accusations or assume fault for the accident.
Document the accident. Get photos of the accident scene, your motorcycle, the other vehicle, skid marks, and your injuries. Get names and contact information for any witnesses to the accident. Within the next 24 hours, write out or record what happened in your own words. In the days and weeks ahead, save all bills, receipts, reports, and correspondence related to the accident and your injuries.
Contact your insurance company. You need to report the accident to your insurer within a day or two. You may be able to do so online. Don't downplay your injuries or blame yourself for the accident. You should decline to give the insurer a recorded statement or to sign anything without consulting an attorney first. Be wary of quick settlement offers. Your total costs and losses are not known until you have completed your recovery. A settlement could easily be for much less money than you deserve.
Contact the best motorcycle accident lawyer. The Fayetteville motorcycle accident injury lawyers at Hardison & Cochran understand you are going through a difficult ordeal. We know the protections the law provides for you. An initial consultation about your accident and the legal options available to you is free. Find out where you stand after being injured in a motorcycle accident.
How Long Do You Have To File a Motorcycle Accident Lawsuit in North Carolina?
North Carolina's statute of limitations requires a civil lawsuit involving a personal injury or property damage claim to be filed within three years of the date of injury. Three years sounds like plenty of time. But the preparation of a lawsuit is time-consuming.
After investigating to determine who is at a fault for the accident and therefore owes you compensation, our personal injury attorneys must calculate all of your losses to determine the amount you should seek. This requires that you have completed all medical care and rehab because medical costs are the greatest part of a claim.
Once we know who owes you and what you are owed, we present insurers with a demand letter.
Most motorcycle accident claims are settled through negotiations. But there are many ways an insurance company can delay proceedings and try to force a settlement or some other concession. If an insurer refuses to agree to a reasonable settlement, our attorneys will be prepared to file a lawsuit on your behalf and present a persuasive motorcycle accident case in court seeking the compensation you need to rebuild your life after a serious injury.
Compensation After a Motorcycle Accident
North Carolina civil law allows you to seek compensation in a motorcycle accident claim for:
Medical expenses. We'll demand compensation for the cost of all emergency care, doctor and hospital bills, medications, physical therapy, and any ongoing care or delayed medical treatment your injuries require.
Lost wages and income. This is for losses you have suffered due to missing work as you recover from the accident. If you have disabling injuries that affect your ability to work, we would seek damages for lost earning capacity.
Property damage. This is the cost to repair or replace your motorcycle.
Pain and suffering. North Carolina allows non-economic damages for the physical pain and emotional suffering you have endured as a result of your injury.
Punitive damages. In certain cases, we seek punitive damages to punish deliberate recklessness or malicious conduct leading to an accident, such as excessively drunk driving or street racing.
How a Contributory Negligence Claim Can Affect Your Motorcycle Accident Case
We must caution you that North Carolina injury claims are heard under a strict doctrine of pure contributory negligence. This holds that the injured claimant is not eligible for compensation if their own negligence contributed to the accident in any way, even if their negligence was minimal when compared to the others involved.
This rule is applied strictly to procedures if a case is tried and there is a jury verdict. It is not as formally applied in negotiations with insurers, but any potential fault on your part – speeding or alcohol in your bloodstream – would weigh against your claim.
As your attorneys, we would work to rebut any evidence or allegations suggesting you were negligent or that your actions in any way contributed to the accident.
Contact Our Fayetteville Motorcycle Accident Attorneys
If you've been injured in a motorcycle accident caused by someone else's negligence in Cumberland County, contact an experienced Fayetteville motorcycle accident lawyer at Hardison & Cochran to protect your legal rights. When a claim is handled properly and aggressively, you can seek full compensation for your losses in a motorcycle accident.
Contact us at 800-434-8399 now or fill out our online contact form to set up a free initial consultation.