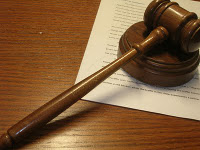 UPDATE (July 27th, 2011): The North Carolina House overrode Gov. Purdue's veto of this bill. To view a PDF version of the final bill, please click here.
The North Carolina Senate Bill 33, which can be viewed here in PDF, is a proposal to reform medical malpractice in the state of North Carolina. The actions proposed in the Bill would apply to "health care providers" as defined by the NC General Stat. 90-21.11, which can be viewed below:
§ 90‑21.11. Definitions.
As used in this Article, the term "health care provider" means without limitation any person who pursuant to the provisions of Chapter 90 of the General Statutes is licensed, or is otherwise registered or certified to engage in the practice of or otherwise performs duties associated with any of the following: medicine, surgery, dentistry, pharmacy, optometry, midwifery, osteopathy, podiatry, chiropractic, radiology, nursing, physiotherapy, pathology, anesthesiology, anesthesia, laboratory analysis, rendering assistance to a physician, dental hygiene, psychiatry, psychology; or a hospital or a nursing home; or any other person who is legally responsible for the negligence of such person, hospital or nursing home; or any other person acting at the direction or under the supervision of any of the foregoing persons, hospital, or nursing home.
As used in this Article, the term "medical malpractice action" means a civil action for damages for personal injury or death arising out of the furnishing or failure to furnish professional services in the performance of medical, dental, or other health care by a health care provider. (1975, 2nd Sess., c. 977, s. 4; 1987, c. 859, s. 1; 1995, c. 509, s. 135.2(o).)
What exactly is the NC Senate Bill 33 proposing to reform?
Many things, but the main two you will hear about are the $500,000 cap on non-economic damages and limiting the liability of emergency care services. Below, both are explained:
Non-economic Damages are Capped at $500,000
Non-economic damages include pain, suffering, inconvenience, loss of consortium, physical impairment, disfigurement, and other nonpecuniary damages. (1) The Bill proposes that the person who suffered the adverse effects of medical malpractice cannot recover more than $500,000 for their non-economic damages. If they are awarded more than $500,000, then a court will lower it to the capped level.
Limiting Liability of Emergency Care
The Bill reads, "…the health care provider shall not be liable for the payment of damages unless the trier of fact finds by greater weight of evidence that the care of such health care provider was not in accordance with the standards of practice among members of the same health care profession…"
What are they saying about the NC Senate Bill 33?
Laurie Sanders, Executive Director of the North Carolina Coalition for Patient Safety (NC-CPS), today described Senate Bill 33 as "a direct assault on patient safety."
Above from: Patient Safety Coalition Calls Proposed Immunity For Substandard Care "A Green Light To Commit Malpractice"
"Under this bill, hospitals can provide negligent care, which every other doctor in North Carolina agrees is malpractice, but still have complete immunity," Taylor explained. "They take no responsibility at all for their actions. How is that fair?"
Above from: Mothers to NC Legislators: No Medical Malpractice Immunity in the Emergency Room 
I understand that you are sponsoring SB 33 that would not allow a lawsuit if a little girl is injured in an emergency room because of negligence. I don't understand why that is fair. The doctors who work in an ER have standards they are supposed to follow, just like everyone else. All we expect is that they provide reasonable care that meets their professional standards. Is that too much to ask?
I hope you will not support SB 33.
Above from: Clayton, NC resident Sarah Leonard's Letter to NC Senator
I understand that you have introduced a bill that would impose an arbitrary cap of $250,000 on damages for pain, suffering, disfigurement, mutilation, loss of limbs, and even death.
Senator Rucho, No one put a "cap" on my wife's pain and suffering — so how can you put a cap on what it's worth? I understand fair compensation for disfigurement and pain is difficult to determine. That's why we count on juries to make that decision — after they hear all the evidence.
But if your bill passes, legislators — having heard no evidence — will arbitrarily make that decision
Above from: Doctor John Faulkner's letter to NC Senator
"North Carolina citizens have a 'sacred and inviolable right' to have a jury determine the amount of compensatory damages, including non-economic damages, under our Constitution. The right to have a jury make that decision cannot be eliminated or restricted by the General Assembly."
Above from: Former NC Supreme Court Chief Justice I. Bev Lake, Jr.: Medical damages cap 'unconstitutional'
* Photo courtesy of steakpinball via Flickr Creative Commons.