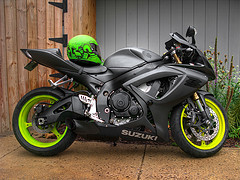 FairWarning.org, a website dedicated to providing journalism on issues of health, safety and corporate conduct, recently covered a topic that might be the most hotly debated within the circle of motorcycle riders. Yes, helmets.
This article isn't so much on the laws and the freedom on choice of wearing or not wearing a helmet, but focuses on the different types of helmets available to motorcycle riders today. More specifically, novelty helmets.
The article starts out with a heartbreaking story of a couple who were involved in an accident in California. At the time of their accident, the male was wearing a helmet that met federal safety requirements. The female was wearing a novelty helmet. During the crash, the helmet's strap broke and she died at the scene of the accident from head injuries.
A little under a million "novelty helmets" are sold each year in the United States. The FairWarning.org article cites a National Highway Traffic Safety Administration study which found that novelty helmets were "worthless in a crash." While the business is booming for novelty helmets, there isn't any deception in the way they are sold. We took a quick look around the internet to purchase a novelty helmet and all the vendors we visited let you know the helmet is not D.O.T. approved within the description of the product. Click the link below to read the full article from FairWarning.org.
Read the article: Booming Sales of Novelty Helmets Boost Toll of Motorcycle Deaths
Currently, the laws in North Carolina require not only a helmet, but a D.O.T. approved helmet for all motorcycle riders, but this might change soon with new laws proposed in the North Carolina General Assembly. Click here to see the NC House Bill 109 which, if passed, would allow motorcyclists to ride with out a helmet given that they have met certain requirements. If passed, the laws would go into effect on October 1st of this year.