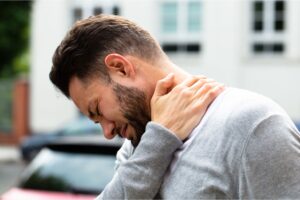 If someone else hurt you, they should have to compensate you for what you've lost financially, including medical bills, lost income, and other expenses. However, the effects of a serious injury are not merely economic in nature. They also have an emotional component, one that's every bit as real and impactful as those dollars-and-cents losses – and every bit as compensable.
You've probably heard of "pain and suffering" before but might wonder what qualifies and how much you could be owed. The Raleigh personal injury attorneys of Hardison & Cochran have the answers. For more than 30 years, we have fought for justice for injured North Carolinians like you. We have achieved a long track record of results for our clients during that time.
Let us put our experience to work for you. We are ready to help you understand your rights to compensation for pain and suffering, then fight to recover it on your behalf.
Contact us today for a free initial case review with our Raleigh personal injury lawyers. We look forward to hearing your story, learning about the pain and suffering you had to experience through no fault of your own, and explaining how we can help during this difficult time.
How Much Can You Get Out of Pain and Suffering?
Financial compensation for pain and suffering after an accident reimburses you for the physical discomfort and emotional distress you experience because of your injuries. Unfortunately, no objective standard can put a dollar amount on pain and emotional suffering. An accident victim may receive pain and suffering compensation for a portion of their economic damages, equal to their compensation for economic losses, or several times their economic compensation.
When assigning a dollar amount for pain and suffering, the court will consider the following:
The effects of injuries and disabilities on the victim's daily living and ability to participate in activities
Whether injuries or disabilities restrict the accident victim's ability to work
The effect of injuries and disabilities on the victim's relationships
Whether the injured victim suffers a reduction in quality of life, such as from chronic pain, lack of sleep, or embarrassment and humiliation from permanent scarring or disfigurement
North Carolina law only imposes a limit on pain and suffering compensation in medical malpractice cases, with the limit adjusted every year based on the Consumer Price Index. However, this limit does not apply in cases where a plaintiff suffered disfigurement, loss of use of a body part, permanent injury, or death, or where a defendant acted with gross negligence, recklessness, fraud, willfulness, or malice.
Examples of Physical Medical Conditions That May Qualify for Pain and Suffering
Minor injuries with a quick recovery period may not support a claim for pain and suffering compensation. However, more serious injuries that cause physical pain and involve weeks or months of medical recovery likely will. Some injuries that may qualify you for financial recovery for pain and suffering include:
Degloving injuries (injuries in which the skin tears away from underlying muscle or bone)
Second- and third-degree burns
Torn ligaments, tendons, and muscles
Bone fractures
Herniated spinal disc injuries
Nerve damage
Crush injuries
Perforation injuries
Internal organ damage
Vision or hearing loss
Amputation or dismemberment
Loss of a body part or use of a body part
Permanent scarring or disfigurement
Examples of Emotional Pain That May Qualify for Pain and Suffering
In addition to the physical pain of an injury, its emotional consequences can also be compensable. Examples of emotional distress that may qualify you for pain and suffering compensation include:
Insomnia and sleep disturbances, such as night terrors
Mood changes or swings
The onset of anxiety or depression
New phobias related to the accident, such as fear of riding in vehicles after a crash
Loss of appetite
Loss of sex drive
Lack of energy or interest in activities you previously enjoyed
Irritability and frequent angry outbursts
Humiliation or embarrassment from physical disabilities or visible scarring and disfigurement
Feeling that your quality of life has diminished
Post-traumatic stress disorder (PTSD)
Examples of Loss of Consortium That May Qualify for Pain and Suffering
In addition to the compensation you may be owed, your spouse may also have the right to pursue compensation for loss of consortium. Loss of consortium describes the emotional and physical consequences that someone suffers as the result of their spouse being injured, including a loss of the following:
Companionship
Affection
Society
Service, including service or chores performed around the household that the couple now hires someone else to perform
Support and guidance
Sexual relationship
Spouses must file their loss of consortium claim with their injured spouse's personal injury claim, since the former stems from the latter.
How to Prove Pain and Suffering
You can calculate your economic losses from accident injuries by referring to financial documents such as bills, invoices, receipts, and pay stubs. However, calculating pain and suffering compensation involves a more subjective analysis of the effects that your injuries have had on your life. You will need to present evidence to establish the extent of the pain and suffering you have experienced, which may include:
Medical records to document your injuries and the treatment you received
Medical testimony from your treating physicians and medical experts to explain the pain and physical impairment that your injuries caused you
Testimony from your family members, friends, and co-workers about the effects of injuries on your personal and professional life
Your own testimony about your subjective experience of your injuries and disabilities
Some of this evidence can be difficult to gather on your own. Instead of trying to do so, turn to an experienced personal injury attorney who has connections to expert witnesses in a variety of fields.
Schedule a Free Case Review with Our Experienced Raleigh Personal Injury Attorneys
Call Hardison & Cochran today for a free, no-obligation consultation to talk to our seasoned Raleigh personal injury attorneys about your rights to recover compensation for your pain and suffering. We are ready to stand up for your rights, advocate for you at the negotiating table and in court, and demand that the person who hurt you compensate you accordingly. You can reach us by phone or simply fill out our easy online contact form.