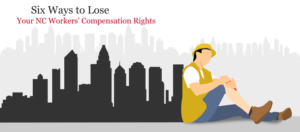 If you are employed in North Carolina and are injured or become ill because of your job, you likely qualify for workers' compensation benefits. But if you don't follow the rules, you could lose your eligibility for workers' comp.
As attorneys who represent injured workers, we work with the N.C. Workers' Compensation Act every day. We want you to be aware of some costly missteps that could jeopardize your workers' compensation benefits.
Here are six common mistakes that can cause problems with your workers' comp claim:
Being late to report an accident.

North Carolina law requires that an injured worker must report an injury to your employer within 30 days of the accident unless you can prove that your employer knew about it already. It's best to report your injury or the diagnosis of an occupational illness to your employer as soon as possible and in writing. Keep a copy of the notification letter. If your company has a human resources office, check to see exactly how they want you to report your injury/illness.

Not filing with the state.

In some states, the employer files the paperwork required to initiate a workers' compensation claim for their employee. In North Carolina, the injured/ill employee must initiate the claim by filing Form 18 with the state Industrial Commission (IC) within two years of the accident. Form 18 notifies the IC and your employer of your claim for workers' comp benefits. You should complete and file it ASAP.

Saying something you shouldn't have said.

Your employer or their workers' compensation insurer may ask you to record a statement about your accident or injury. It may be that they are hoping you'll say something that indicates you were not injured as badly as you claim or that you'll say something else that undermines your claim. A workers' compensation lawyer can advise you about making a statement and what to expect to be asked so that you are prepared. Posting on social media such as Facebook presents an opportunity to make the same mistake. Don't post something online that may be used to show you are not as badly injured as you claim.

Ignoring your doctor's recommendations.

The doctor who treats you for your occupational injury or illness will remain in contact with the state IC throughout your case. He or she will advise the state of your progress. If your doctor tells the state you are not following his or her directions for medical treatment, medication, or physical therapy, the state may terminate your benefits. It is crucial that you follow the doctor's orders while receiving workers' comp. If you think your doctor's treatment plan is incorrect, your workers' compensation attorney can help you, but do not ignore the doctor's orders without your attorney's advice.

Returning to work.

Sometimes a workers' comp insurer or an employer will say an employee can return to work before they are ready. This saves the employer money, because your benefits end. If you are not ready to resume working, there may be complications. You could be reinjured, which could necessitate a new claim or reopening your old claim. If you are unable to perform your job, your employer may move to terminate you, claiming the problem is "you" and not the injury that the record shows you have fully recovered from. You may be assigned "light duty" or an alternate job as a means to get you back to work part-time or for partial pay. If you refuse to do this work, your benefits could be terminated.

Accepting a settlement.

It may be that you will not be able to return to work, but you need to be aware that once you accept a settlement, your benefits will be set. You must make sure you have obtained all of the workers' compensation benefits you are due. This includes job placement or vocational rehabilitation services if you cannot return to your old job. You also need to be sure the final disability rating your doctor assigns you is correct, because your benefit payments will be based on it.
There are many aspects of a workers' compensation case that you cannot be expected to know about or foresee unless you've been through the process before. You can easily make a mistake or a wrong decision that costs you money.
At Hardison & Cochran, our workers' compensation attorneys have guided hundreds of injured workers in North Carolina through the workers' compensation system. We can help you, too. We'll work diligently to protect your rights to a proper workers' compensation settlement if you are hurt or become ill because of your job. Call us today for a free initial consultation about your case.