Whether you're riding the rolling highways of the Piedmont, cruising along the Coastal Plain or navigating the switchbacks of a mountain road, many bikers enjoy riding in North Carolina in the summertime. But with vacationers and others enjoying summer in our state, too, crowded roads increase the chances of getting into a motorcycle accident.
The N.C. Division of Motor Vehicles says 87 percent of 3,893 motorcycle accidents that occurred in our state in 2013 caused a reportable personal injury. There were also 154 fatalities. North Carolina's numbers also show a steady climb in the number of monthly motorcycle accidents in July, August and September of the most recent year available.
Here are the six best tips for safe motorcycle riding and making sure you don't become a statistic this summer:
1. Use Protective Gear.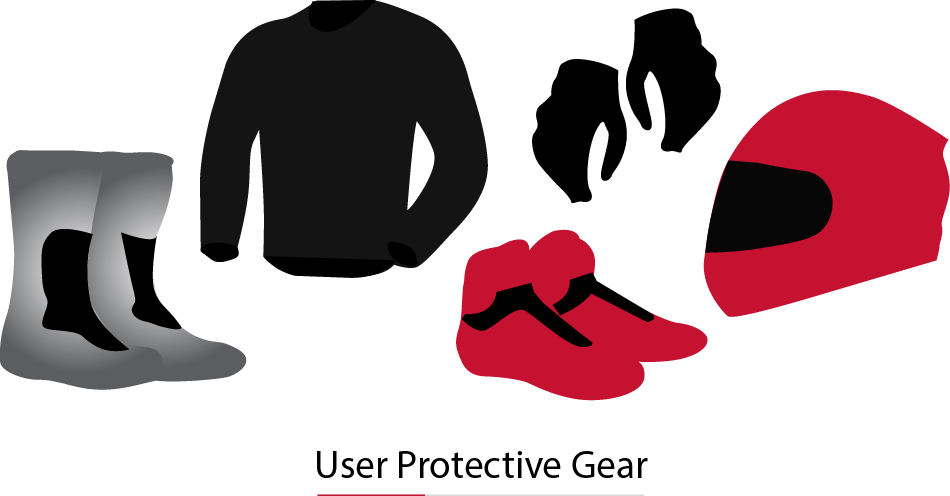 Whatever you wear when riding is all that stands between you and the pavement if you are involved in a motorcycle accident. Make it count. Always wear a helmet, boots that cover your ankles, gloves and a heavy jacket and pants or a riding suit. North Carolina law requires motorcyclists to wear a Federal Motor Vehicle Safety compliant helmet (aka a DOT-approved helmet). It's also your best protection for avoiding a traumatic brain injury, or death from a head injury in a motorcycle crash. To protect your eyes, wear either goggles or a face shield that attaches to your helmet. Consider earplugs if you ride frequently. Long-term exposure to the noise of your bike's engine and the wind can cause permanent hearing loss.
2. Stand Out.

The Motorcycle Safety Foundation (MSF) says to pretend you are invisible to car and truck drivers. Counter the visual disadvantage of a smaller, slimmer ride by wearing a brightly colored helmet and riding gear. Burn your headlight, even in daytime. Catch motorists' eyes by using hand signals along with your bike's turn signals and brake light. Flash your brake light as you begin to slow down or stop. Signal your intentions ahead of where you want to turn or stop. At night, wear reflective or retro-reflective clothing or a riding vest. Ride with a group in a staggered riding formation when you can.
3. Ride Defensively.

Keep your distance from other vehicles so you can stay out of motorists' blind spots. Don't ride beside cars and trucks if you can help it. Pull ahead or drop back if necessary. Never split a lane while moving down the road. At intersections, pull up and to the left of other vehicles so drivers can see you and you can see what's going on in front of their vehicle, such as pedestrians crossing the street. Be particularly cautious of vehicles turning at intersections. Try to make eye contact with drivers to ensure that they know you are there. Always watch ahead for potential hazards and plan escape routes in case something dangerous – like some driver's boneheaded move – occurs.
4. Ride Safely.

Operating a motorcycle safely in traffic requires judging speed and distances between your bike and other vehicles correctly, including as you follow, pass or ride with vehicles in traffic. You must understand how to ride in challenging road conditions, such as uneven surfaces, grooved roads, slick pavement due to rain, loose sand, oil, and inclement weather, including rain, fog, and high winds. Never ride when you are impaired by fatigue alcohol or drugs, including prescription or over-the-counter drugs, or while distracted by cellphones or other electronic devices.
5. Make Sure Your Ride is Sound.

Maintain your bike regularly and check it over before every ride. The Motorcycle Safety Foundation provides a detailed checklist for a bike maintenance inspection called the T-CLOCS system. It covers:
Tires and wheels.
Controls (handlebars, throttle, levers, pedals, etc.)
Lights and electronics.
Oil and other fluids.
Chassis.
Side stand.
6. Know What You're Doing.
You won't be safe unless you know the capabilities of your motorcycle and how well you can handle it on the open road. For instance, the Insurance Institute for Highway Safety warns that "super sport bikes" have driver death rates about four times higher than cruisers or standard bikes. Ride a bike you are able to straddle and support, and that you will be able to push for long distances if necessary. Spend several hours on a bike to learn how it handles before going into heavy traffic or taking off for a long ride. Keep in mind that carrying a passenger or heavy cargo requires considerably more skill than riding alone. Consider taking a riders' course. The North Carolina Motorcycle Safety Education Program offers basic, experienced and advanced rider classes through community colleges throughout the state.
A careless driver or a simple oversight on your part can lead to a dangerous motorcycle accident in an instant. And it is you, the motorcyclist, who will be hurt in a collision, not the car or truck driver or their passengers. The National Highway Traffic Safety Administration (NHTSA) says that in 2013, per vehicle mile traveled, motorcyclists were killed in accidents 26 times more often than passenger car occupants in crashes.
Take the time and make the effort to stay safe this riding season.
If you get into a motorcycle accident caused by someone else's negligence, speak with a motorcycle accident lawyer at Hardison & Cochran. You may be entitled to compensation for your medical expenses, damage to your motorcycle, lost wages and future expenses, as well as for your pain and suffering, and emotional distress.
Our motorcycle accident attorneys can deal with insurance companies on your behalf after a motorcycle accident while you recover from your injuries. We'll seek a proper insurance settlement for you, whether we can get it through negotiations or by fighting for you in court.
Hardison & Cochran serves motorcyclists throughout eastern and central North Carolina from our offices in Raleigh as well as offices in Dunn, Fayetteville, Wilmington, Durham, Greensboro and Southern Pines. Contact us today for a free, no obligation review of your motorcycle accident claim.