Transportation Safety as School Year Continues
When the school year begins, parents usually worry about whether children will get good grades or make the school's athletic teams. They also spend an inordinate amount of time worrying about school clothes and supplies. Transportation safety, on the other hand, typically receives little attention. But with hundreds of thousands of children returning to school, transporting them safely to and from school is a monumental task. It requires vigilance on the part of parents, bus drivers, crossing guards, school administrators and, ultimately, children to avoid school-zone and school-bus accidents. North Carolina laws governing school zones and school buses are strict for a reason. With thousands of vehicles zipping around as parents rush children to school and then try to make it to work on time, the chances of an accident increase greatly.
Motorists Should Slow Down, Remain Alert in School Zone
Motorists are required in North Carolina to stop for stopped school buses and obey school crossing guards in school zones, which are clearly designated with signs and pavement markings, according to the https://www.ncdot.gov . Special reduced speed limits, typically 20 mph, apply in school zones, during specified hours. Most school zone signs have blinking caution lights to catch the eye of motorists and signal where motorists need to slow down because of the likelihood of children being present. Drivers are required to yield to pedestrians at every turn and when pedestrians are making their way along a crosswalk. Usually, crossing guards will stop traffic to let children cross a street in a designated area. In cases where crossing guards are not present, it is the motorist's responsibility to yield.
Watch for Buses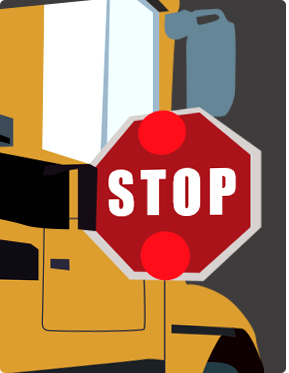 Buses are yellow for a reason. The bright color is to make buses more visible to other motorists so they can take precautions. It is always advisable to travel with great care around a school bus. When approaching a bus from any direction on the same street while it is displaying its mechanical stop signal or flashing red stoplights, vehicles must stop until the bus is done loading or unloading children and its signals are turned off and it moves on. Motorists are not required to stop for buses when traveling in the opposite direction on a four-lane road divided by an intervening space or physical barrier. Likewise, bus drivers are not allowed to receive or discharge children to cross that type of roadway. Even so, if motorists see a bus stopped on the other side of a divided highway, they should proceed with caution to ensure no children are crossing the street. Buses also are required to stop at railroad tracks to make sure a train isn't coming before they cross. In addition, buses are not allowed to travel faster than 55 mph when carrying children. School bus drivers must go through training and obtain a special license through the state to operate on North Carolina roadways. Bus drivers are prohibited from using cell phones while operating the bus, except to report an emergency situation such as a medical issue or mechanical problems with the bus.
School Zone Crash Statistics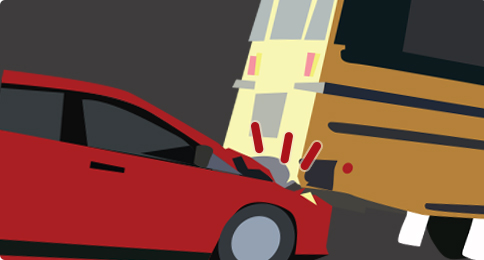 Despite these rules and regulations, North Carolina still experiences accidents and injuries in school zones. In 2013, the North Carolina Department of Transportation recorded 27 crashes at intersections where school zone signs were posted. Twelve of those involved injuries, according to North Carolina 2013 Crash Facts. Fortunately, none of the school zone accidents involved fatalities. The state recorded another 29 crashes at non-intersections in school zones during 2013, eight of which involved injuries. None involved fatalities. In spite of the required training for bus drivers and the laws surrounding motorist behavior around buses, the big yellow vehicles have their share of accidents.
Bus Driver Cited After Bus Overturns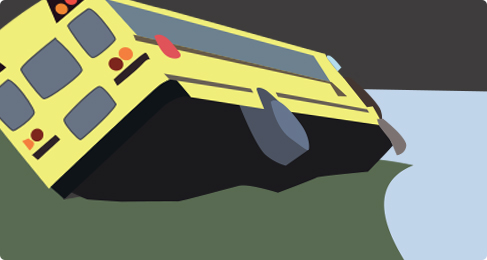 Recently, a school bus travelling to Southern Wayne High School ran off the road on a foggy morning as it rounded a curve and flipped on its right side near Mount Olive on September 9, according to a WNCN news report. One student was aboard the bus at the time of the accident and was unharmed. According to the N.C. Highway Patrol, the school bus driver was charged with exceeding a safe speed limit for the existing conditions. A total of 787 school bus accidents were reported across North Carolina in 2013, involving 540 injuries and four fatalities. Three of the deaths took place in Wake County where 117 school bus crashes were reported involving 51 injuries. In Guilford County, 57 school bus crashes were reported in 2013 involving 35 injuries. Meanwhile, in Durham County, 33 school bus crashes were reported involving nine injuries that year. Orange County had seven bus accidents with six injuries. Considering the number of children school buses transport each year, school buses are some of the safest vehicles on the state's roadways. Still, bus drivers do make mistakes, and other motorists fail to yield to buses or disregard state laws requiring them to stop as buses load and unload. In school zones, human error on the part of crossing guards or motorists could cause an accident that results in injury to a child. Sometimes, children may dart across the street to catch up with friends, putting themselves in danger.
Contact a NC Injury Lawyer After a School Zone Accident
If you or one of your loved ones has been injured in a school-zone crash or school-bus accident, contact an attorney experienced in handling car and bus accidents. You will need a lawyer who is well versed in North Carolina's laws governing school buses and school zones, someone who can guide your case through the legal system and ensure you receive the award you deserve. As school starts this year, use common sense while driving and teach your children to be aware of safety and the vehicles around them at all times.