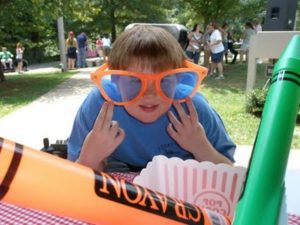 As we mentioned on our blog, the Muscular Dystrophy Association had to cancel their annual week long camp this year due to a N1H1 Virus scare. In the wake of this news, the MDA Raleigh Chapter, along with the Greensboro and Wilmington Chapters, decided to throw a one day picnic at Crowder Park in Apex, NC. Following is an article detailing the event from Maria at the Raleigh MDA chapter along with pictures. For more information on upcoming events please call the Raleigh MDA office at 919-783-0222. Since there were so many good pictures from the event, each day this week we'll post some pictures.
When driving down Ten Ten Road in Apex, just around a bend, there is a sign that says Crowder Park. Set back in the woods, with trails and a lake, there are picnic pavilions, a baseball field and swing-sets. It is at this park where last Saturday, August 8, the Greensboro, Raleigh and Wilmington MDA offices came together to celebrate children living with neuromuscular disease. Neither the heat nor the distance kept the families from attending the Life Under the Big Top Picnic.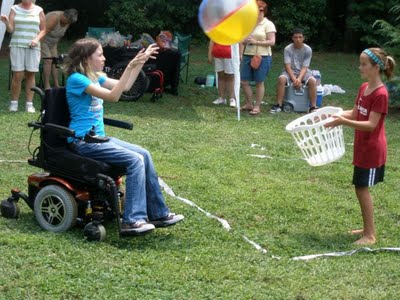 For MDA families, staff, and friends, it was a day for the kids to simply be kids; it was a day where you had the opportunity to see the faces of kids battling Duchenne MD, Limb-Girdle MD, Charcot-Marie-Tooth, etc…; it was a day where you did not have to explain why you are in a wheelchair, or how you are different; it was a day to come together and visit with old friends; it was a day to make memories and see smiles. There are few opportunities to bring together everyone who is working towards a cure, and the Picnic was one of these few, but treasured, occasions.
Upon arriving at the Picnic, participants were given a Life Under the Big Top shirt, sponsored by Hardison & Cochran. All the children that came to the Picnic signed four shirts, one for each office and the Durham Fire Department. Mr. Cochran and others from Hardison & Cochran attended the Picnic to support the MDA families. As a friend of MDA, the Picnic gave Hardison & Cochran the opportunity to put a face to the cause.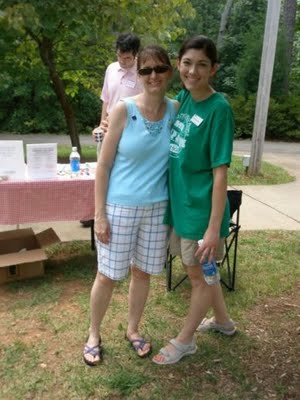 The Picnic not only came with food prepared by the Durham Fire Department (thank you Captain Towner and Durham Station #2!), but the Scrap Exchange donated the Arts 'n Crafts supplies, Fort Bragg soldiers ran the carnival games, and the Scooter Store organized a wheelchair obstacle course. With music playing, some soldiers entertained us all with the Cha-Cha Slide. By the time the sun came out in the afternoon, bellies full and well hydrated, the kids, parents, and volunteers were enjoying the water guns. Several battles were going on, all over the park.
By the end of the day, everyone was exhausted from playing in the heat. Kids were enjoying popsicles; MDA staff were putting their feet in any remnants of ice; Fort Bragg soldiers were resting in the shade in between moving tables. But the day was perfect! And we would all do it again in a heartbeat, if only to see those smiles and to hear that laughter. Until next year…