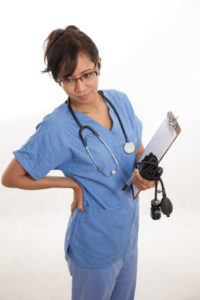 For many years now, hospitals in North Carolina and across the nation have been experiencing what could only be called a rising epidemic of work-related injuries among nurses, nurses' aides, orderlies, and other healthcare workers.
A recent report by National Public Radio (NPR) revealed that many hospital administrators refuse to admit the day-to-day duties of most nurses make them vulnerable to injury. Equipment and training that could minimize the risk of injury is generally overlooked or deemed unimportant in comparison to other pressing financial demands.
Even though workers' compensation laws require companies to cover medical expenses and lost wages for employees who sustain work-related injuries, many injured nursing employees are denied coverage. In one particular case, spotlighted by the NPR report, an injured nurse in Asheville was refused medical coverage for her injuries and denied access to workers' comp, then terminated by the hospital because her injuries prevented her from being able to perform the tasks required by her job.
Scenarios such as this are not uncommon, regardless of whether the hospital occupational medical staff and specialists deem an injury to be work-related. By refusing to provide workers' compensation coverage to injured nurses or initiate safety measures to minimize future workplace injuries, hospitals are sending a clear message to nurses that their injuries are not the hospital's problem.
Nursing Injury Statistics
Most nursing and orderly jobs require the employee to engage in repetitive heavy manual lifting and bending, particularly when moving, repositioning, or transferring patients. This type of work often puts nursing staff in extremely awkward postures and can put excessive pressure and strain on the back and neck. When an employee has to do this type of work dozens of times a day, it can quickly take a toll.
As the Centers for Disease Control (CDC) has reported, individuals who work in the healthcare industry tend to experience musculoskeletal disorders (MSDs) at a much higher rate than those individuals working in construction, mining, and manufacturing.
Orderlies are the ones who sustain the most non-fatal injuries and illnesses requiring time away from work, at a rate of 241.0 for every 10,000 full-time workers. Nursing assistants have an injury rate of 208.4, followed by personal care aides at a rate of 61.1 and registered nurses at a rate of 55.7.
The costs related to back injuries within the healthcare industry have been estimated at $20 billion dollars a year, according to the CDC. As the existing nursing workforce continues to age, prevention is going to play a key role.
Hospitals must make an effort to minimize the risk of injury nurses and orderlies face. With 12 percent of nurses reporting they left their jobs due to back pain and a 30 percentage nursing shortage expected by the year 2020, changes need to be made.
What Can Be Done to Protect Nursing Staff?
A few years ago, the National Institute for Occupational Safety and Health (NIOSH ) conducted a field study to determine if the addition of mechanical lifting equipment, training on the proper use of such equipment, implementation of a safe lifting policy, and a pre-existing medical management program could significantly reduce the rate and cost of injury to nursing employees. What they found was quite revealing. After policy changes were made, there was a dramatic reduction in injuries stemming from lifting and moving patients, workers' comp costs went down, and fewer employees required time away from work due to injury. Specifically:
Workers' comp claims (per 100 nursing staff) dropped by 61 percent
Occupational Safety and Health Administration recordable injury rates decreased by 46 percent
First reports of employee injury rates were reduced by 35 percent
The costs associated with the purchase of the lifting equipment and initial training of the nursing staff were recovered in less than three years time
In the 37 months following the NIOSH intervention:
Injuries from patient transfers dropped 62 percent
Lost work days when down by 86 percent
Restricted work days decreased by 64 percent
Workers' comp costs dropped by 84 percent
This clearly shows that when hospitals take nurses' injuries seriously and make an effort to address the problem with the necessary equipment and training, the risk of injury and resultant injury-related costs are significantly reduced. With the proper safety measures in place, fewer nurses will be at risk of injury, more nurses will be likely to continue in or join the nursing profession, and hospitals should expect to face fewer injury-related medical and legal costs.
Most employees in North Carolina are entitled workers' compensation benefits when injured on the job, regardless of fault.  If you are a healthcare worker who has been injured at work and denied workers' compensation benefits by your employer, talk to a North Carolina workers compensation lawyer at Hardison & Cochran. We stand up for the rights of injured workers and help you obtain the benefits you deserve to recover.
Sources: