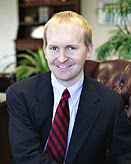 Every Tuesday a selected attorney of Hardison & Cochran will share tips that helped them through law school and their early career as a lawyer. These tips will range from advice on how to study for the LSAT, law school classes and the bar exam to how to handle a case load once you start practicing in your selected area. If you would like one of your questions answered about becoming a lawyer please e-mail us at wsc@lawyernc.com.
This week's tip comes from North Carolina Central University School of Law graduate Blair Biser.

If you are reading this blog, chances are you're reading other blogs around the Internet. If that is true, why not check out some blogs that will, depending on your situation, help you out in school or help you out finding out if you want to pursue a career in law. This week we're going to feature 10 blogs you should check out if you're thinking about or already enrolled in law school. They span from law news and research to blogs by students currently in law school. Enjoy!
What I Learned in Law School
Have a great week,
Blair