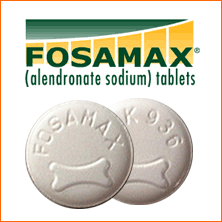 In April, we had an informational post on the potential dangers of the bisphosphonate drug Fosamax. The drug, which is used for the for the prevention and treatment of osteoporosis, is back in the news.
An expert panel has concluded that the group of bisphosphonate drugs, which includes Actonel, Boniva in addition to Fosamax, can raise the risk for a rare fracture in the thighbone. Due to the findings of the expert panel, they are urging the United States Food and Drug Administration (FDA) to add special warnings to the labeling of these drugs.
The expert panel reviewed 310 cases of "atypical femur fractures". Out of those 310 cases, 291 (94%) of the patients had taken some form of a bisphosphonate drug. Many of the patients had taken the drug for more than five years. Co-chair and lead author Elizabeth Shane, M.D., of Columbia University said the following about the panel's findings:
 "Most of the patients who experienced these atypical femur fractures had been taking bisphosphonates for more than five years. However, we are concerned that there may be a relationship between these fractures and long-term bisphosphonate use and, although the risk is low, we want to make sure that people know about the warning signs."
In addition to special warnings on these drugs, the expert panel is calling for better identification and tracking of patients experiencing these breaks, and more research to determine whether and how these drugs cause the serious but uncommon fractures.
View the full report in PDF from the Journal of Bone and Mineral Research.