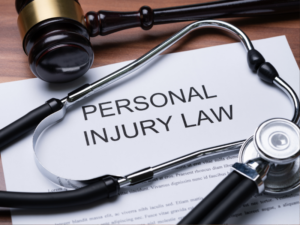 You may have a personal injury claim if you suffered injuries in an accident or incident caused by someone else's carelessness or misconduct. If you sustained a significant injury, you may have a right to pursue compensation for your medical expenses, lost wages, and pain and suffering.
If you believe that you suffered harm due to the negligence or fault of another, you should consult an experienced personal injury attorney to discuss your legal options. Contact Hardison & Cochran for a free initial case evaluation. Our personal injury lawyers will review the circumstances of your injury and help you understand your legal options. Our North Carolina law firm has a proven track record of securing just compensation to help our clients recover from injuries and put their lives back on track.
 Common Places of Personal Injuries
Some of the most common situations, occupations, or locations that may lead to accidental injuries include:
Understanding the Common Types of Personal Injury Injuries 
Some of the most common injuries that serve as the basis for personal injury claims include:
Severe cuts and abrasions
Broken bones
Torn ligaments, tendons, and muscles
Ruptured discs
Internal organ injuries
Head and facial injuries
Traumatic brain injuries
Spinal cord injuries and paralysis
Do You Have a Personal Injury?
A personal injury has a specific definition in North Carolina civil law. It is a physical injury or emotional harm caused to a person by another as a result of carelessness or irresponsible conduct. To seek compensation, you must have evidence that the other party acted negligently and caused your injury as a result.
An experienced personal injury lawyer can evaluate the circumstance of your injury, determine who was at fault, and assess whether you have a right to file a personal injury claim seeking compensation.
Why Medical Attention Is Crucial
After getting into an accident, you should seek medical attention immediately, even if you don't think you've suffered an injury. Prompt medical treatment has several critical benefits. First, getting immediate treatment for injuries in an accident will improve your prognosis and reduce your recovery time. Waiting to seek treatment risks aggravating your injuries.
Prompt medical attention documents your injuries and strengthens your argument that the injuries resulted from the accident rather than from subsequent trauma or a pre-existing condition. 
What To Consider in Personal Injury Cases
Deciding whether to pursue a personal injury case and determining fair compensation will depend on various factors, including the following:
The type and severity of injuries you've suffered
The types of medical treatment and rehabilitation you undergo
Whether you miss time from work or have reduced earnings
The number of parties at fault for your injuries
The statute of limitations applicable to your claims
The complexity of the evidence in your case
The availability of insurance coverage
Tips for Choosing a Personal Injury Lawyer in North Carolina
Selecting the right personal injury lawyer can make a difference in your case. Take advantage of the free initial consultations offered by many personal injury lawyers to speak with multiple attorneys. You can ask the attorney questions at an initial consultation about similar cases they have handled and assess whether you feel comfortable talking with the attorney. The questions you may want to ask should cover topics such as the lawyer's professional experience, experience with cases similar to yours, litigation experience, results, and communication styles.
After you've suffered injuries in an accident due to another party's fault in North Carolina, call Hardison & Cochran today or contact us online. You'll get a free, no-obligation consultation where you can speak with a North Carolina personal injury lawyer.
For more than 30 years, the attorneys at Hardison & Cochran have advocated for the interests of accident victims throughout North Carolina. Our attorneys have dedicated their careers to seeking outstanding results for clients. We work on a contingency fee basis. You will not owe us any legal fee unless we secure a settlement or trial verdict for you. Don't wait. Call now.