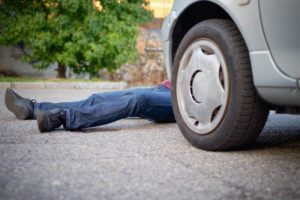 A new analysis of federal and state traffic data indicates that pedestrian fatalities on U.S. roads surged by 53% from 2009 to 2018 and increased by 5 percent from 2018 to 2019. By comparison, all other traffic deaths combined increased by 2% over the decade.
The 6,283 pedestrian deaths in 2018 accounted for 17% of all U.S. traffic deaths, a figure last seen over 35 years ago, the report from the Governors Highway Safety Association (GHSA) says.
The reasons, according to a Washington Post report about the study, include drivers and pedestrians being intoxicated, motorists being distracted by cellphones, and the heavier, less forgiving SUVs that many Americans drive.
"Alcohol impairment is a major contributing factor," the report says. "An estimated 33% of fatal pedestrian crashes involved a pedestrian with a blood alcohol concentration of 0.08% or higher and an estimated 16% of drivers involved in these crashes had a BAC of 0.08% or higher."
The growth in smart phone use during the past decade is another factor contributing to the surge in pedestrian fatalities. Cellphones create both cognitive and visual distraction for drivers.
In addition, larger, heavier vehicles tend to cause more serious injuries. Pedestrians struck by a large SUV are twice as likely to sustain fatal injuries as those struck by car, the GHSA says.
Additional contributing factors include the fact that many roads were designed with cars, not people, in mind. Most pedestrian fatalities occur away from intersections.
Five states — Arizona, California, Florida, Georgia and Texas — accounted for almost half (47%) of all pedestrian deaths in 2018.
North Carolina Pedestrian Fatalities Statistics
When comparing pedestrian fatalities in the first half of 2019 with the same period in 2018, 30 states reported increases. North Carolina reported an increase from 100 pedestrian deaths in January through June 2018 to 112 in the same six months of 2019, a 12% increase.
North Carolina's pedestrian fatality rate for 2018 was 2.2 per 100,000 population, ranking 12th among the 50 states. New Mexico topped the list with 4.5 pedestrian fatalities per 100,000 population in 2018. Maine was at the bottom with 0.5 per 100,000 population.
The annual National Highway Traffic Safety Administration (NHTSA) report about pedestrian fatalities, released in March 2019, says there were 198 pedestrian fatalities in North Carolina in 2017. Pedestrian deaths accounted for one of every seven traffic fatalities in North Carolina that year.
Tips to Improve Pedestrian Safety
The Centers for Disease Control and Prevention (CDC), which cites alcohol as well as higher vehicle speeds as factors in pedestrian deaths, and the National Highway Traffic Safety Administration (NHTSA) offer safety tips for pedestrians:
Be predictable. Follow the rules of the road and obey signs and signals.
When walking at night, increase your visibility by carrying a flashlight and wearing reflective clothing.
Cross streets at intersections and use crosswalks whenever possible. Look for cars in all directions as you cross the street, including vehicles turning left or right.
Never assume a driver sees you as you cross the street. Before stepping into an intersection, make eye contact with drivers as they approach to make sure they see you.
Watch for cars entering or exiting driveways or alleys or backing up in parking lots. Be alert for drivers who are backing up.
Walk on a sidewalk or path instead of the road. When walking on the shoulder of the road, walk facing traffic.
Avoid the distraction of using electronic devices, especially those with earbuds.
Avoid walking along roadways if you have been using alcohol or drugs, which impair judgment and coordination.
Contact a North Carolina Pedestrian Accident Attorney
Even if you are doing everything right as a responsible pedestrian, you cannot prevent a distracted driver or drunk driver from causing an accident. If you or a loved one has been injured by a reckless driver or drunk driver, you should contact an experienced pedestrian accident lawyer as soon as possible.
When a driver disregards N.C. traffic laws and causes a pedestrian accident, the at-fault driver may be liable for the individual's injuries. A pedestrian accident attorney at Hardison & Cochran can review the details of the accident that injured you or your loved one and discuss your legal rights to seek compensation.
After being hit by a car and seriously injured, it makes sense to explore whether you are due compensation. Severe injuries suffered in a pedestrian accident may require surgery followed by weeks of hospitalization and rehabilitation, which will cost thousands of dollars and require an extended absence from work and loss of income.
If this hardship has been imposed on you due to no fault of your own, you deserve to be relieved of the financial burden. North Carolina personal injury law entitles pedestrian accident victims to seek compensation for physical injuries and emotional pain and suffering in a personal injury or wrongful death case, as well.
Hardison & Cochran has helped many North Carolina individuals and families who have been injured by the negligence and recklessness of others. We can review the details of your accident and explain your legal options in a free initial consultation. If we can help you, we will offer to represent you on a contingency fee basis. This means you will not be expected to pay a legal fee unless we recover compensation for you. Contact us for a free, no-obligation discussion of your case today.