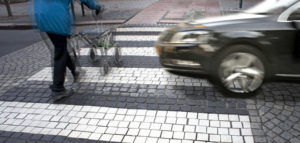 Pedestrian accidents are a serious problem in North Carolina. The North Carolina Bicycle and Pedestrian Crash Tool reveals that in a single year (2013), there were 2,761 pedestrian crashes reported in the state. Pedestrians are much more likely to die in a crash than are occupants of motor vehicles, and this is alarming considering that pedestrian deaths are increasing each year in US.
As the weather warms and more people spend time outdoors, it is important to focus on how pedestrian accidents occur and how they can be avoided. Consider the following common pedestrian accidents that occur during warm weather:
Crosswalk Accident
One of the most common types of pedestrian accidents is a crosswalk accident. A crosswalk accident will occur for one of two reasons: the driver failed to yield to the pedestrian, or the pedestrian failed to yield to the driver. Pedestrians have the right of way to cross at intersections when traffic lights or signals are not present. When traffic signals are in place, the pedestrian shall obey the traffic signals.

The easiest way to avoid a crosswalk accident is to walk without distractions and obey posted traffic signs and traffic lights. If a light at a crosswalk or a special pedestrian signal indicates that you should not walk, do not do so! Even if you have the right of way, do not proceed until the way is clear and you are sure that drivers can see you and are waiting for you to cross. If walking at nighty, you should wear light colored or fluorescent clothing and use a flashlight to make yourself more visible.
Back-up Accidents
Perhaps the most tragic type of accident is a back-up accident, which occurs when a driver fails to a see a person, often a child, when backing out of a driveway or a parking lot.

As a driver, you should never reverse your vehicle without checking what is behind it first. This does not mean just looking in your mirrors, but actually performing a physical inspection of anything going on behind your car. It also means that you should get to know your vehicle's blind spots, and be sure no one is behind you before moving in reverse. SUVs and pickup trucks have the largest blind spots and are typically involved in more back over accidents.
For pedestrians, it's important to be alert to situations in parking lots and driveways when a driver appears ready to back out of a parking space and be careful about walking behind cars. If you are a parent, remind your children to never play behind parked vehicles.
Speeding Accidents
It is much harder to stop a vehicle that is traveling at a high rate of speed, increasing the risk of all accident types, including pedestrian accidents.

If you are a pedestrian, remember to steer clear of any vehicles that look like they will not stop for you. Before crossing a street on foot, try to estimate how fast an oncoming vehicle is traveling. Refrain from walking in the road even if you have the right of way if there is any question as to whether you will clear the intersection before the vehicle arrives.
Slip & Fall Accidents
While slip and fall accidents do not always involve a motor vehicle, they do routinely affect pedestrians and can be catastrophic, especially if they occur in the path of an oncoming vehicle. Slip and fall accidents and pedestrian accidents are actually on the rise in many parts of the world due to the increase in distracted walking.

As a pedestrian, you should never walk while distracted! Turn your music off and keep your eyes on your surroundings to avoid being hit by a car. Preventable injuries are all too common due to distractions.
Drunk Driving Accidents
Drunk drivers are another common cause of pedestrian accidents. Half of fatal pedestrian accidents involved either a motorist or a pedestrian who was intoxicated, according to the Centers for Disease Control and Prevention. Perhaps most tragic is the fact that children may be victims of drunk driving accidents.

As a pedestrian, stay aware of vehicles around you. If you notice that a car is swerving or driving sporadically, get out of the way and wait in a safe location until the vehicle has passed, and then call the police to report the vehicle.
Common Pedestrian Accident Injuries
When a pedestrian accident occurs, the injuries are often devastating.

When victims are involved in crashes, they should consider filing pedestrian accident injury claims to help them recover the compensation that they deserve for their injuries. It is important to remember that as a pedestrian involved in an accident claim, the amount of damages that you recover may be reduced in proportion to your degree of fault. As such, you should take all precautions necessary to reduce your risk of being in a crash, and hire an experienced North Carolina pedestrian accident attorney who can help you to build a strong case.
Contact Us Today
If you have been injured a pedestrian crash in North Carolina, contact the experienced lawyers at Hardison & Cochran, Attorneys at Law. A consultation with our team is always free, and we will do everything we can to protect your rights.