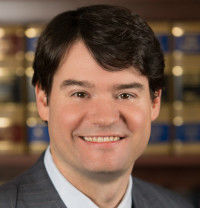 Hardison & Cochran is proud to announce that, for the third time in the past three years, managing partner Ben Cochran has been named, by his peers, as a member of the list of The Best Lawyers in America 2016 in the "Workers' Compensation Law – Claimants" category. This list is in its 22nd edition this year.
Hardison & Cochran, named in the list of "Best Law Firms" in this year's U.S. News – Best Lawyers, strives to help injured workers as well as car accident victims, people with disabilities seeking social security, and people in many other situations. Mr. Cochran and all of the attorneys at the firm work not only to represent their clients' best interests, but to educate clients about their rights.
Mr. Cochran's extensive knowledge of workers' compensation law allows him to both educate his clients and present their case in the best way possible. He says "My true pleasure as a workers' compensation attorney is knowing that I understand North Carolina's workers' comp program and its laws, and that when an injured worker or their family comes to us for help, I can move forward fully confident that I will present their strongest case for benefits."
Along with experience and knowledge, the attorneys and staff at Hardison & Cochran take pride in the client service that the firm has offered over the years. Considering the fact that over half of the firm's clients were referred by former clients, it is clear that people have felt comfortable, supported and welcome at the firm.