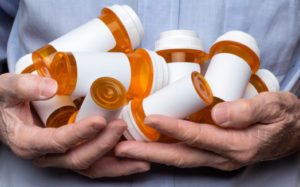 North Carolina has been active in encouraging nursing homes to curb the use of antipsychotic drugs to sedate nursing home patients. Still, too many nursing homes load elderly dementia patients with antipsychotics rather than hire adequate staff to care for the patients.
Antipsychotic drugs are approved to treat people with schizophrenia or psychotic disorders. But the Centers for Medicare & Medicaid Services found in 2013 that 20 percent of nursing home residents, mainly those with dementia, were being given antipsychotics, according to an AARP article.
Residents who are given too many antipsychotics can lose their independence, become confused, fall down and injure themselves and increase their risk of stroke, the federal Administration on Aging reports.
The U.S. Department of Health and Human Services inspector general has testified that facilities are prescribing antipsychotics in "violation of nursing home quality and safety standards." As nursing homes stopped using physical restraints to control patients, institutions began sedating residents to control their behavior, including many dementia patients who could have been treated without drugs.
Some 60 to 70 percent of nursing home patients may have some form of dementia, causing them to act aggressively, bite, kick or scream. In some situations, they may wander around a nursing home campus and even find their way onto nearby streets, endangering themselves and others.
Rather than increase staffing or provide alternative treatments, nursing homes have simply loaded the patients with antipsychotic drugs to keep them under control.
Until this practice stops, families could find themselves in need of expert legal representation to deal with nursing home abuse.
Precedent-setting case
This harmful practice came to public attention in 2010 when a 79-year-old California woman, Patricia Thomas, was admitted to a nursing home  to rehabilitate a broken pelvis. Eighteen days later, her daughter, Kathi Levine, said she was slumped over in a wheelchair, chewing on her hand and hardly able to speak, according to an AARP report. Weeks later, she died.
Before the woman entered the facility, she suffered from Alzheimer's disease, but was able to dress and feed herself as well as walk, her daughter said. Yet she received so much medication at Ventura Convalescent Hospital, including antipsychotics given illegally, that she couldn't function anymore, according to Levine.
The AARP Foundation joined with a law firm in reaching a settlement on a class-action lawsuit against the facility over its use of dangerous drugs without the informed consent of the family or patient. AARP hopes the precedent-setting case will help it fight similar battles nationwide.
North Carolina reacts
The state of North Carolina led the nation in reduction of antipsychotic drugs given to nursing home dementia patients, based on data from the Centers for Medicare and Medicaid Services.
According to a News and Observer article, nursing homes statewide gave antipsychotic medications to 23 percent fewer patients in 2013 compared to a year earlier, surpassing the agency's reduction goal of 15 percent.
The state is encouraging use of alternatives such as massage, exercise and familiar music to treat dementia patients who have the tendency to be combative. Improved staffing and more time outdoors also can reduce difficult behavior for dementia patients.
The Forest at Duke took inventory of its drug-prescribing practices and reduced the number of patients receiving antipsychotics to four from 17 of its 92 patients, according to the News and Observer article.
The Durham facility may use hand or shoulder massages to relax patients, in addition to aromatherapy, lifelike mechanical cats and dogs and a "Music and Memory" program to soothe residents with dementia.
In spite of these improvements, there is concern some nursing homes will continue to depend on antipsychotics to dull the senses of residents, making it easier to control them, rather than to opt for alternatives that require more time and effort.
If you suspect one of your loved ones in a long-term care facility is being drugged inappropriately, contact an experienced nursing home abuse attorney who can help you determine whether you can file a claim to protect your family and yourself from the pain of a prescription drug overuse.