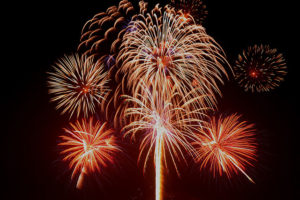 It's almost that time again. A week away from today, everyone across the United States will be celebrating independence. Grilling hamburgers and hot dogs, playing catch, meeting up with the family; it's all par for the course this time of the season, but today we'd like to offer some tips and links to make sure if your celebration includes some type of firework, that you stay safe. Before we begin, check out this PDF file which explains what type of fireworks are allowed in North Carolina.
The National Council on Fireworks Safety lists nine safety tips to remember this July 4th:
Use fireworks outdoors only.
Obey local laws. If fireworks are not legal where you live, do not use them.
Always have water handy. (A hose or bucket).
Only use fireworks as intended. Don't try to alter them or combine them.
Never relight a "dud" firework. Wait 20 minutes and then soak it in a bucket of water.
Use common sense. Spectators should keep a safe distance from the shooter and the shooter should wear safety glasses.
Alcohol and fireworks do not mix. Have a "designated shooter."
Only persons over the age of 12 should be allowed to handle sparklers of any type.
Do not ever use homemade fireworks of illegal explosives: They can kill you! Report illegal explosives to the fire or police department in your community.
Additional Fireworks Safety Links:

* Photo courtesy of The Wandering Angel via Flickr Creative Commons.