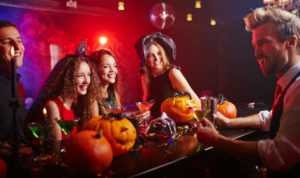 Children and adults alike look forward to Halloween. Some spend the evening with little ghouls and goblins, trick or treating or attending fall festivals. Others engage in more adult activities, such as visiting haunted houses, Halloween parties or costume contests.
Either way, the 'fright night' element is part of the fun, but there are some genuine safety concerns that people of all ages should keep in mind. Car accidents and injuries are a risk to both drivers and pedestrians. They alarmingly common on Halloween with many children crossing streets in the darkness. At Hardison & Cochran, Attorneys at Law, we are dedicated to making North Carolina communities safer places to live and raise families. We have compiled some safety tips for pedestrians and motorists to have a safe Halloween.
Staying Safe On the Road This Halloween
When people think of the typical fears associated with Halloween, they often envision haunted houses and horror movie characters. If you have little ones in your family, you may be dealing with more realistic concerns regarding the alarming stories that circulate each year about Halloween candy that has been tainted. Unfortunately, the most common dangers on Halloween and the days immediately before and after the holiday often get overlooked.
According to the American Automobile Association (AAA), Halloween is one of the most dangerous times of the year for motor vehicle accidents. The AAA states that Halloween is one of the top three days for pedestrian accidents and injuries, with children being four times more likely to be struck by a car on Halloween night than any other time of the year. Staying safe this Halloween means being aware of the potential dangers, and taking the precautions necessary to protect yourself, as well as those you love.
Halloween Safety Tips for Pedestrians and Motorists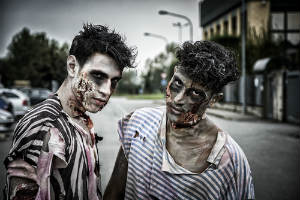 The National Highway Traffic Safety Administration (NHTSA) states that large numbers of trick-or-treaters and large numbers of adult party goers combine to make Halloween one of the most potentially dangerous nights of the year. The NHTSA urges pedestrians to use caution, and parents to be particularly careful in supervising their children to prevent accidents and injuries. The following are seven Halloween safety tips for pedestrians and motorists:
Obey The Rules of the Road. Drivers should come to a complete stop at all traffic signals and stop signs. They should observe posted speed limits, and avoid aggressive driving such as speeding and failing to yield. A person in a dark costume walking along the roadside is easy to overlook if a driver is not paying attention. In residential neighborhoods or areas with large numbers of pedestrians, drivers should go extra slow and be alert for revelers who may venture off sidewalks and into the street. Stay alert for trick-or-treaters who may dart out from between parked cars into the street.
Obey Pedestrian Rules: In North Carolina, there are laws that pedestrians must follow. The failure to follow pedestrian traffic laws increases the odds of being involved in an accident and suffering injuries. Pedestrians should stay on the sidewalk. When walking in an area without sidewalks, walk as far to the right as possible, facing oncoming traffic. Look left, then right, then left again before attempting to cross the street. Use designated crosswalks at busy intersections.
Avoid Distractions: Whether driving or walking, it is important to avoid distractions that divert your attention and put you at risk for accidents and injuries. Drivers should refrain from using cellphones, texting, changing GPS settings, or performing any task that takes their eyes off the road or their hands off the wheel. Pedestrians should keep their heads up, and avoid using ear phones that make it harder to hear warning sounds of danger, such as car horns, sirens, or screeching tires.
Drive Sober: More than a third of fatal motor vehicle accidents on Halloween involve a drunk driver, according to federal data. If you intend to have a few drinks over the course of the evening, make sure that you have a designated driver or make arrangements to take a cab home. Be aware of the way alcohol interacts with any medications you are taking, which could intensify the effect of the alcohol.
Watch Out for Friends: The saying 'friends don't let friends drive drunk' is as true on Halloween night as it is on any other night of the year. If you are hosting a Halloween party, make sure to provide plenty of food and non-alcoholic beverages, avoid over serving guests, and make sure anyone who is intoxicated either remains at your house or finds another way home.
Be Alert When Walking: The potential for stumbling, falls, tripping over sidewalks, and stepping into traffic make walking under the influence of alcohol or drugs just as dangerous as driving. Some prescription and over-the-counter medications can impair your judgment or reflexes enough to put your safety at risk.
Take Extra Precautions with Children: Parents need to be particularly vigilant with children, who are most at risk for pedestrian accidents and injuries on Halloween. Make sure your children are aware of all traffic safety rules, and never allow children under the age of 12 to go out unsupervised. Use reflective tape on Halloween costumes to make them more visible to oncoming motorists, and avoid costumes that drag on the ground or constrict their movement or vision.
Have You Been Injured? Contact Us today
If you or someone you care about is injured as the result of a motor vehicle or pedestrian accident, contact Hardison & Cochran, Attorneys at Law today. Our experienced North Carolina accident lawyers can advise you on how to hold responsible parties accountable for the injuries you have suffered, and assist you in getting the compensation you deserve.