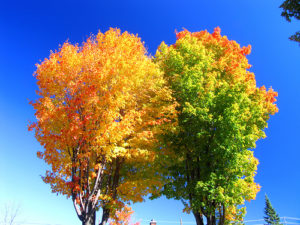 It's that time of year. Green giving way to yellow, orange and red on the trees. Cool fall wind in your hair. Those first few lines sound like the beginning to a good song, but we're talking about something different today. We're talking about driving safety during the fall. If you didn't know this week is National Teen Driver Safety Week. Here's a stat you may not have known:
Teen drivers have the highest crash risk of any age group. The crash rate per mile driven for 16-year-old drivers is almost 10 times the rate for drivers aged 30-59.
All signs point to inexperience and the fall offers some unique driving hazards that some young drivers may not have dealt with yet. If you know a young person who has recently started driving on their own, make sure you share the following 3 fall driving tips with them:
Leaves on the road may make for a beautiful picture, but they are dangerous
Wet leaves on the road make for slippery conditions. If you're coming to a stop, turning or accelerating from a stop in a pile of wet leaves, do it with caution. In addition to cutting down on traction, leaves can cover up pot holes, road markings and curbs. Anytime you enter a road with a lot of leaves on it, even if they are dry, reduce your speed to make sure you're safe.
Shorter Days Don't Stop Runners and Bicyclist
With fall comes shorter days, but that doesn't stop runners and bicyclist from getting their exercise. It also doesn't stop dog owners from taking walks with their four legged buddies. During the fall when it is getting dark earlier, make sure you are on the lookout when you enter roads where you have seen frequent foot travel.
Be on the Lookout For Wildlife
As we posted last year on the blog, an encounter with wildlife on the roads can happen anytime of the year, but the majority of accidents happen between October and December. The two main reasons for this is mating and hunting season. North Carolina is considered a "high-risk" state when it comes to vehicles colliding with deer. The stats say that one in every 150 vehicles in the state of North Carolina will collide with a deer over the next 12 months.
Additional Resources:

*Photo courtesy of jpctalbot via Flickr Creative Commons.
Learn about Hunting Safety Tips for the Fall.