North Carolina Lawyers Helping Chronic Pain Sufferers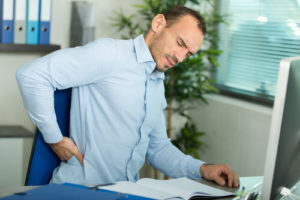 Many of us know the aches and pains of growing older. While these may be more annoying than painful, persistent pain is a different matter. Pain that continues for weeks, months or years is known as "chronic pain," the National Institute of Neurological Disorders and Stroke (NINDS) says.
There are a variety of treatments for chronic pain. These include over-the-counter pain relievers, stronger drugs, psychotherapy, electronic stimulation of the brain and surgery. But, says the NINDS, chronic pain is resistant to most medical treatments and often causes severe problems for patients.
Chronic pain can leave its victims disabled and unable to work for a living. If you have been diagnosed with chronic pain that you believe may have been caused by your job activities, call the North Carolina workers' compensation lawyers at Hardison & Cochran. We know how to investigate, litigate and negotiate claims involving chronic pain, and we are committed to securing maximum compensation for our clients. We serve clients across North Carolina, including in Raleigh, Cary, Durham and Fayetteville.
To schedule a free case review, call us today at (800) 434-8399 or complete our online form.
What is Chronic Pain?
The NINDS calls pain "the universal disorder." Pain warns us that something isn't quite right and tells us we should take medicine or see a doctor. "At its worst, however, pain robs us of our productivity, our well-being, and, for many of us suffering from extended illness, our very lives," the NINDS says.
Pain that persists for weeks, months or years and disrupts our ability to work or go about our daily lives is known as "chronic pain." It is widespread. The U.S. Centers for Disease Control and Prevention (CDC) says that among adults in a survey who reported experiencing pain in the previous month:
42 percent said it had lasted a year or more
13.7 percent said they had experienced pain for three months to less than a year
12.3 percent said they had experienced pain for one month to less than three months
32 percent said they had been in pain for less than a month.
The American Society of Regional Anesthesia and Pain Management (ASRA) says chronic pain may be caused by an underlying chronic condition such as arthritis. The NINDS calls back pain "a startlingly common cause of disability for many Americans."
Migraine headaches – often described as throbbing or thumping headaches that come on suddenly – are debilitating to those who suffer them. Stress can trigger a migraine headache, the NINDS says. Migraines can put the sufferer at risk for stroke.
The NINDS says a patient may have two or more co-existing chronic pain conditions. Such conditions can include:
Endometriosis – This is a painful, chronic abdominal disease that affects at least 6.3 million women and girls in the U.S.
Fibromyalgia – This is a disorder characterized by fatigue, stiffness, joint tenderness, and widespread muscle pain.
Inflammatory bowel disease or abdominal pain – This includes ulcerative colitis and Crohn's disease.
Interstitial cystitis – This is a recurring discomfort or pain in the bladder or surrounding pelvic region.
Sciatica – This is a painful condition caused by pressure on the sciatic nerve, which is the main nerve that branches off the spinal cord and continues into the thighs, legs, ankles and feet.
Temporomandibular joint dysfunction – This causes pain in the jaw joint and in the muscles that control jaw movement.
Chronic pain can also affect the entire nervous system. Sometimes, it can be permanent, the ASRA says. Long-term pain can cause changes in the spinal cord and the brain. This may change how the patient perceives pain. The changes may cause the patient to feel severe pain with little or no painful stimulus.
The NINDS list dozens of treatments for pain that is says are among the most common. They include:
Acetaminophen (Tylenol)
Acupuncture
Antidepressants
Electrical stimulation (TENS, peripheral nerve and spinal cord stimulation, deep brain or intracerebral stimulation)
Exercise
Hypnosis
Magnets
Placebos
RICE (Rest, Ice, Compression, and Elevation)
Surgery.
Chronic pain can be very difficult to treat. Over time, it may be very costly to treat. For the patient who has tried several of the many treatment options available and found no relief, chronic pain can become so frustrating that it leads to depression or other emotional problems.
The Challenges of a North Carolina Chronic Pain Claim
Because there is no test or measurement to precisely tell us how much pain another person is in, basing a legal claim on chronic pain can be a challenge. Often, we must rely on the patient's own description of their pain and its intensity. Of course, this could be open to dispute by an insurance company and/or employer reluctant to pay a legitimate workers' compensation claim.
But work records, including accident reports, can help us show how a workplace injury or illness created the underlying condition causing a patients' chronic pain. Also, medical records like magnetic resonance imaging (MRI) and X-rays and the results of electrodiagnostic procedures such as electromyography (EMG), nerve conduction studies and evoked potential (EP) studies can show the cause of pain and help prove a claim of debilitating chronic pain.
A North Carolina workplace injury attorney experienced with the state's workers' compensation system will know how to document and demonstrate the causal connection between your job-related stress, strain and/or accident and your chronic pain.
Our Raleigh Chronic Pain Lawyers Are Ready To Help
Hardison & Cochran handles many injury and workers' compensation cases in North Carolina in which the injured person suffers from chronic pain. If you or a loved one needs a lawyer to assist with your workers' compensation claim, make sure your attorney has experience representing clients who suffer from chronic pain in North Carolina workers' compensation claims.
To schedule a free consultation, contact Hardison & Cochran today online or by calling (800) 434-8399. We'll respond within 24 hours.