Common Truck Accidents Causes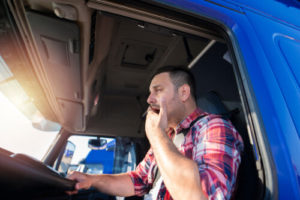 A landmark study by the Federal Motor Carrier Safety Administration (FMCSA) and the National Highway Traffic Safety Administration (NHTSA) remains the only one of its kind to identify the factors behind accidents involving tractor-trailers, semis, semi-trailers, flatbeds and other large commercial trucks.
The "Large Truck Crash Causation Study" (LTCCS) cited the following factors as being commonly associated with truck accidents:
Fatigue / felt under work pressure from the trucking company – Under federal hours-of-service (HOS) regulations, drivers of large trucks are allowed to be behind the wheel for as long as 11 hours at a stretch. Surveys indicate that many drivers work longer than permitted. Often, HOS violations are because of pressure from employers.
Distracted driving – Truck drivers are prohibited from texting or using hand-held mobile phones while driving their vehicles. Unfortunately, many do so and cause serious accidents.
Drug/alcohol intoxication – The use of illegal drugs and alcohol among truck drivers is rare because of frequent testing. However, legal drug use is also dangerous and far more common. Prescription drug use was cited in 26 percent of crashes in the LTCCS and over-the-counter drugs in 17 percent.
Brake problems/tire problems – Brake failure is a far-too-common cause of truck crashes. Tire blowouts can easily cause drivers to lose control of their heavy vehicles. Large truck owners have a responsibility for ensuring their vehicles are properly maintained before taking to our roadways.
Cargo shifts – FMCSA regulations govern how cargo is loaded and secured on commercial trucks. Violations of FMCSA rules that lead to cargo-shift accidents leave the trucking company (carrier) liable for the harm caused.
Driver error – The LTCCS cited several errors by truck drivers that led to accidents, including speeding, traveling too fast for conditions, following too closely, performing illegal maneuvers (improper passing and U-turns) and failing to keep adequate surveillance. Truck drivers can be held liable when their negligent and/or reckless driving causes accidents.
Aggressive driving – Tailgating, weaving and other aggressive behaviors were cited in 6.6 percent of accidents in the LTCCS. These behaviors are also types of reckless driving.
Roadway problems – When faulty road construction or deferred maintenance contributes to a truck crash, it may be a contractor or the responsible state or local government agency that should be held liable for injuries, property damage and other losses.
Contact Our North Carolina Truck Accident Attorneys
If you or a loved one has been badly hurt in a truck accident in North Carolina, the attorneys of Hardison & Cochran can help you to seek compensation for your losses. Our truck accident attorneys have more than 30 years of experience in determining the causes of truck accidents. We can identify liable parties in your accident and move aggressively to seek all the compensation available to you.
Contact us today. We can provide a free consultation about your case.
Sources / More Information:
Large Truck Crash Causation Study, Federal Motor Carrier Safety Administration (FMCSA)