Train Accidents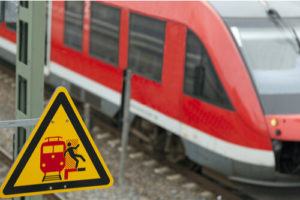 North Carolina is crisscrossed by six passenger train routes, three freight train routes and various short line railroads and light rail services. Trains cross highways and side streets in rural areas, small towns and urban downtowns every day. Most train trips are uneventful, but when train accidents occur, they can cause serious injuries in collisions at highway crossings, derailments, passenger falls and other incidents.
If you have been injured in an accident on a train or at a train station, you should speak to a personal injury attorney as soon as possible. You may have a right to seek compensation to pay your medical bills and for other losses, including your pain and suffering.
In North Carolina, the train accident lawyers at Hardison & Cochran in Raleigh have the knowledge and experience necessary to represent your interests after a serious train accident injury. We can conduct an independent investigation of the accident and your injuries, and help you pursue just compensation from Amtrak, the City of Raleigh for an accident at Raleigh Union Station or other parties involved in the accident.
Types of Train Accidents
Train accidents are not uncommon. Large, multi-car derailments or fatal collisions at railroad crossings make the evening news, but thousands of other accidents cause injury that only those involved hear much about.
There were 1,857 train accidents and 11,521 railroad accidents and incidents of all types in 2019, according to the Federal Railroad Administration's Office of Safety Analysis. They led to 915 deaths and 7,827 nonfatal injuries. In North Carolina in 2019, there were 27 fatalities and 96 nonfatal injuries in train/railroad accidents.
There are several common types of train accidents, any of which may cause serious injury or death. They include:
Railroad crossing collisions involving cars, trucks, pedestrians and bicyclists
Train collisions
Train derailments
Collisions with runaway or rollaway equipment
Being crushed by malfunctioning train car doors
Falls on trains caused by lurching stops and starts
Slip and fall accidents on trains, train platforms or in train stations.
Most train-related injuries and fatalities occur at railroad crossings, according to federal data. This includes train derailments caused by poorly maintained rail grades at crossings and accidents that occur because people or vehicles are on railroad tracks.
People may also be injured by acts of violence on trains and at train stations, platforms and parking lots. The organization that owns or runs the railroad or train station has a duty to make the premises secure, such as through security patrols and proper lighting at night. A local government or contracted security firm might be held liable for the negligence that allowed an assault to occur.
Injuries Commonly Suffered in Train Accidents
In a derailment, train cars stop abruptly, crash into each other and/or roll over, throwing passengers and their belongings about the interior of the train car. A collision at speed also throws passengers and other contents of a train forward as the train comes to a sudden stop.
The initial and secondary impacts of a train collision, falls during a crash or derailment, being hit by debris in a crash, or slip and fall accidents at a train station can cause such injuries as:
Broken bones
Back and spinal cord injury (paralysis)
Crush injuries damaging internal organs
Serious lacerations (cuts) and blood loss
Physiologic shock (substantially disrupted blood circulation due to injury)
The derailment of train cars in an accident can lead to fire, caustic chemical spills or contact with exposed electrical circuitry and/or heated surfaces, which may cause:
Smoke or toxic chemical inhalation/suffocation
Derailments and spills of hazardous waste or other toxic cargo can cause injury and damage personal and real property. It may require an expensive cleanup and/or repair and replacement.
Common Causes of Train Accidents
When there are multiple injuries in a train accident, the National Transportation Safety Board (NTSB) sends a multi-member investigative team that assumes control of most aspects of the accident site. The NTSB issues an accident report after concluding its investigations.
Federal Railroad Administration (FRA) field personnel are routinely dispatched to the scenes of serious train accidents to determine the cause of the accident and whether an NTSB investigation is warranted. The FRA also makes its accident reports available to the public and compiles railroad safety statistics online.
Information from the FRA shows that train accidents are caused by human operational error, failure to meet or maintain safety standards, equipment failure, track failure or obstruction, or a combination thereof.
Train Operation Errors
The FRA has cited train engineers and conductors for being distracted by cellphones and impaired by sleepiness (fatigue), drugs and alcohol while on duty. These issues of train operators' negligence by failing to act or acting improperly have led to accidents involving:
Improper train speed, such as running too fast on a curve, crossing a steep grade, or not braking appropriately when approaching a crossing or entering a station.
Improper loading, with the length and weight of a train affecting how it brakes, stops, and rounds curves.
Incorrect signaling and failing to signal or advise.
Miscommunication about main track authority and authorization to proceed down a stretch of railroad.
Mechanical and Electrical Failures
Trains, rail junctions and rail signals are complex systems. Mechanical and/or electrical failures may cause or contribute to a train or rail accident, including malfunctions in:
Locomotives
Train cars
Trailers or containers on flatcars
Brakes
Coupler and draft systems
Axles and journal bearings
Wheels
Doors.
Track and Railroad Bed Flaws
The weight of trains eventually damages the tracks, so rails, beds and crossings must be regularly inspected and maintained. Lapsed maintenance or design flaws can lead to problems that cause accidents, such as:
Misaligned track
Loose track
Uneven crossings
Failure of the railroad bed
Failure of switches and track appliances.
It is also possible that an intentional wrongful act, such as deliberate track obstruction, may cause a railroad accident. This includes motorists attempting to cross a railroad crossing as an approaching train arrives or pedestrians walking or standing on railroad tracks.
How Do I Obtain Compensation for a Train Accident Injury?
Train and railroad accidents can be extremely complex. The investigation that follows a train derailment or collision will involve federal agencies in addition to local authorities if there are multiple serious injuries or a fatality.
The official investigation of a major rail accident may take a year or more to complete. As your attorneys, we would follow those developments and investigate locally while keeping track of what you have been put through and the costs and losses you have had to bear. Accident investigations will eventually indicate what caused the accident and what entity or entities can be held liable through an insurance claim and/or personal injury lawsuit.
The advantage to the time needed to investigate is that, if you have suffered major injuries in a train accident, this gives you time to recover. Depending on the severity of your injuries, you may need to undergo surgery, perhaps multiple operations, and rehabilitation as part of your recovery. The majority of a claim for compensation will be to recover the cost of medical care, so we need your treatment to be completed or in sight of completion to ensure we demand all you deserve to have.
Drivers and pedestrians who cause train accidents, or their estates, can be held liable if their recklessness led to your injuries. Private companies and government entities that operate trains, railroads and rail stations can be held accountable for injuries or damages caused by negligence or recklessness of employees or the organization as a whole. Legal claims after a train accident that injured multiple people may be combined as a class action lawsuit against a common defendant.
A skilled train accident injury lawyer, such as ours at Hardison & Cochran, can work to recover compensation for your injuries and other accident-related costs. It is likely for a train accident claim to be settled out of court through negotiations, particularly if it is a class action. Our team may be able to pursue an independent claim for you or join your claim to a class action suit if one is declared.
Prepare for a Train Accident Claim
If you are able after a train accident, you should start to gather evidence for a claim:
Take photos of the accident scene, wreckage, your injuries and anything that depicts how bad the accident was.
See a doctor. A medical exam will not only identify and treat your injuries, it will document injuries.
Contact your insurance company. This also documents your injuries and losses. Your insurance company may have a deadline for reporting an accident.
Save receipts and other accident-related information. In addition to creating a file for receipts and other records of your injuries, write down how you were injured as soon as you can with as much detail as possible. Keep a journal of your recovery and how your injuries affect your well-being and/or limit activities, such as returning to work or pursuing hobbies.
Contact an experienced personal injury attorney.
Contact a Trusted Raleigh Train Accident Attorney
If you have been injured in a train or railroad accident in North Carolina, Hardison & Cochran is ready to help you. Our train injury attorneys have successfully pursued compensation for victims of train, motor vehicle and slip and fall accidents in Raleigh and throughout North Carolina for more than 30 years.
Our objective is to recover the maximum amount of compensation available to you for a serious injury suffered in a train accident. If we cannot obtain a negotiated settlement or jury verdict for you, you won't pay for our legal services.
We represent accident victims from throughout North Carolina, including Raleigh, Cary, Wake County, Research Triangle Park, Durham, Person County, Fayetteville, Dunn, Southern Pines, Wilmington, Greensboro and the Triad. Contact Harrison & Cochran today for a free initial consultation about your case.