North Carolina Pipeline Explosion Injury Attorney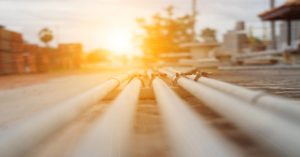 Pipelines are a critical part of our infrastructure, transporting natural gas, petroleum, and hazardous liquids across North Carolina. Unfortunately, pipelines can be dangerous, or even deadly, if proper safety precautions are not taken and they are ruptured. A pipeline explosion can cause serious or fatal injuries to workers, contractors, emergency responders, and others nearby. 
As recently as 2019, one person was killed, and seventeen others were injured when a natural gas pipeline operated by a Dominion Energy subsidiary exploded in downtown Durham. A contractor drilling into the sidewalk struck the two-inch gas line, causing the explosion that destroyed one building and damaged others. A failure to follow proper safety protocols for locating buried utility lines before drilling and excavation can lead to preventable injuries and deaths. 
If you were hurt or if someone close to you was killed in a pipeline explosion caused by someone else's negligence, call the Raleigh pipeline explosion lawyers at Hardison & Cochran for help. Our team will be ready to discuss your rights and legal options during a free and confidential consultation. Our goal is to get you the full and fair compensation you need to pay your medical bills and help you rebuild your life after this devastating accident. 
Causes of Pipeline Explosions
Many of the injuries and deaths caused by pipeline explosions in recent years were entirely preventable. 
Some of the most common causes of pipeline explosions include: 
Installation errors

– Skilled technicians are required to install pipelines safely. Improper welding, for example, could result in dangerous leaks that could cause an explosion. If the team fails to install emergency shut-off valves or other necessary safety features, people could be severely harmed if an incident occurs.

Defective equipment – Even if properly installed, damaged or defective pipes or safety equipment could cause an explosion. If this happens, multiple entities along the distribution chain, from the manufacturer to the distributor of the materials, could potentially be held liable.
Improper maintenance – Aging infrastructure and a lack of proper maintenance are extremely common causes of pipeline explosions. Gas mains, lines, meters, joints, and service lines should be routinely inspected to find leaks before they cause a catastrophic accident.
Failure to train – Preventing pipeline explosions requires companies to be proactive about training employees who work on them. This includes the proper safety precautions to follow when installing pipelines as well as what to do if an incident occurs. Workers should know how to coordinate with emergency response teams to prevent small incidents from becoming larger accidents.
Failure to respond– Any time gas is leaking, it's an emergency. Crews must respond immediately and take the right steps to mitigate the issue to prevent widespread damage and harm.
Failure to add odorant – Natural gas does not have an odor, so it would be nearly impossible for the average person to detect a leak. Odorant must be added to the gas, typically a sulfur or "rotten egg" smell, to alert people of a leak. If the gas company fails to add the odorant or if new pipes absorb it, people may be unaware of a potentially hazardous leak.
Excavation – Sometimes, pipelines can explode due to a third party's actions. For example, excavation work can damage or rupture pipelines, especially if the construction contractor fails to contact the gas company and identify the location of utility lines before performing work.
The N.C. Department of Labor fined PSNC Energy, doing business as Dominion Energy, as well as two subcontractors for safety violations in connection with the 2019 gas line explosion in downtown Durham. According to the Department of Labor citations, Optic Cable, a subcontractor that was laying fiberoptic cable, failed to dig a test hole to locate the underground pipeline before digging and failed to immediately call 911 and NC-811 after rupturing the underground gas line. The subsequent explosion killed a shop owner and a PSNC worker who responded to the gas leak. 
The Department of Labor fined PSNC Energy for ineffective response procedures that exposed the PSNC first responder to explosion hazards without proper protective safety gear.
Pipeline Accident Injuries 
When a pipeline explodes, the resulting injuries to those nearby are often catastrophic. Workers, first-responders, and innocent civilians are at risk of suffering life-altering or potentially fatal injuries.
Some of the most common injuries caused by pipeline explosions include: 
Back, spine, and spinal cord injuries
Blast lung (intrapulmonary hemorrhage)
Loss of limbs
Ruptured eardrums
Bone fractures
Cuts and lacerations
Scarring and disfigurement
Many of these injuries could have a lasting impact on the victim's life, health, and ability to work. An injury from a pipeline explosion could require long-term medical treatment and could result in partial or permanent disability. 
At Hardison & Cochran, our pipeline explosion injury lawyers understand the wide-ranging impact these injuries can have on your life and the lives of those who depend on you. Our attorneys are prepared to investigate a pipeline explosion and identify all parties who may be responsible for the accident. We will pursue full and fair compensation for the harm you have suffered.
You could be eligible to recover compensation for: 
Current and future medical treatment
Lost wages 
Loss of future earnings if disabled
Pain, suffering, disfigurement, and post-traumatic stress
It's important to note that all states have limits on how long you have to file a civil lawsuit after an injury accident. The statute of limitations for filing a personal injury claim in North Carolina is three years from the date of the accident. Most injury claims are resolved through negotiated settlements rather than jury trials. But it is important to keep the statute of limitations in mind when seeking compensation for your injuries. Failure to file a lawsuit before the deadline could result in the loss of your legal rights and the court dismissing your case. 
If someone is killed in a pipeline accident, the surviving family members may have a right to pursue a wrongful death claim. While a wrongful death lawsuit cannot bring back your lost loved one, it can help those left behind have financial security, protect the family home, secure future education and more. Our wrongful death lawyers at Hardison Cochran have the experience, knowledge, and resources to help a family seek justice and closure after a pipeline explosion accident.
Pipeline Explosion Property Damage
While pipeline explosions often result in serious injury to individuals nearby, they also can cause significant damage to property. According to FracTracker, there were a reported 614 pipeline accidents in 2019 alone, resulting in approximately $259 million in damage. 
When a pipeline explodes, fire and flying debris could cause widespread devastation to homes, businesses, vehicles, and other property.
If your home or property was damaged in an explosion, you could be owed significant compensation for: 
Structural damage to buildings

Fire and water damage and restoration costs

Loss of furniture and personal belongings

Damage to your vehicle
An experienced pipeline explosion attorney could help you identify the liable parties and hold them accountable for damage to your property.
Some potentially responsible entities could include: 
The company that owned the pipeline

The company responsible for inspecting and maintaining the pipeline

Third parties, like construction crews or others, if the pipeline was damaged during work
If your property was damaged in a pipeline explosion, it could be challenging to determine which party or parties are responsible. There are specific federal and state regulations that apply to these claims, so be sure to discuss your case with a knowledgeable pipeline explosion lawyer. 
Contact a Pipeline Explosion Lawyer
If you have been injured or if your property has been damaged in a pipeline explosion, call Hardison & Cochran right away. We have more than three decades of experience helping people get answers and justice. Our skilled Raleigh pipeline explosion injury lawyers will be ready to discuss your case and help you get the compensation that you deserve. 
Because an explosion is a violent, life-altering event, don't leave your recovery to chance. You deserve nothing less than the maximum compensation you're eligible to claim. Our team of lawyers and support staff will do everything we can to see that you are made financially whole again. This means calculating all of your current and future losses, and demanding that the responsible party or parties are held accountable. 
We will be ready to stand up for you and negotiate for a fair settlement for the injuries and losses you have suffered and damage to your property. If the at-fault party and their insurance company refuse to agree to a fair settlement, we will be prepared to take your case to court. We prepare every case as if it will go to trial. Our goal is to get you what you're owed, no matter what it takes. 
Our consultations are free, so reach out to us by phone, contact form, or chat with us live to speak with a knowledgeable injury attorney. We represent clients on a contingency-fee-basis, which means you won't have to pay us anything until we win your case. Don't wait, call us today.