T-Bone Car Accident Lawyer in Greensboro, NC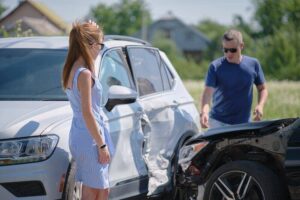 All traffic collisions are sudden and frightening, but T-bone car accidents are especially so. Moreover, they can leave victims with severe injuries and significant financial and personal losses. If someone else was responsible for the T-bone accident that injured you, you can seek financial recovery for all that you have suffered.
When you need legal assistance after a T-bone car accident in Greensboro, NC, turn to the experienced car accident attorneys of Hardison & Cochran. For over 30 years, our firm has advocated for the rights and interests of accident victims across North Carolina. We understand the significant burdens you may face as you recover from life-altering physical and emotional injuries. That's why we require no up-front fees to secure our services. We only get paid when we recover compensation in a negotiated settlement or by winning at trial.
Our firm has several conveniently located offices throughout North Carolina to help people across our great state. We are committed to serving our community, both through our legal representation and our support of worthy causes like the Autism Society of North Carolina.
If another driver broadsided you, contact Hardison & Cochran today for a free, no-obligation consultation with a T-bone accident lawyer in Greensboro, NC. Give us a call at 252-333-3333 to speak to a member of our legal team about your legal rights during this critical juncture.
What Is a T-Bone Accident?
A T-bone accident is the common name for a side-impact vehicle collision. A T-bone accident usually refers to a crash in which the front of one vehicle collides with the side of another vehicle. At impact, the two vehicles form a "T" shape from a top-down view.
T-bone accidents can lead to serious injuries and vehicle damage, even at lower speeds. While the front and rear of cars have substantial crash protection in the form of bumpers and crumple zones that absorb the force of impact, their sides provide substantially less protection to occupants. As a result, occupants of a vehicle that is "T-boned" or broadsided often suffer serious and even life-threatening injuries. Their vehicle may also sustain significant damage and may end up being written off — that is, declared "totaled."
Common Injuries After Being in a T-Bone Accident
The significant force involved in a T-bone accident can lead to catastrophic injuries.
Common T-bone accident injuries include:
Soft tissue injuries, including strains and tears to ligaments, tendons, and muscles
Broken bones
Whiplash
Neck and back injuries, including herniated spinal discs
Nerve damage
Spinal cord injuries and paralysis
Internal organ injuries and internal bleeding
Punctured eardrums and hearing loss
Facial injuries, including eye damage
Head injuries, including skull fractures
Traumatic brain injuries
Traumatic amputations
Who's at Fault in a T-Bone Accident?
Generally speaking, the person at fault for a T-bone accident is the driver whose failure to yield the right of way most directly contributed to the collision. For example, many T-bone accidents occur when a driver runs a red light or stop sign and either T-bones a vehicle that is already in the intersection or is hit by a vehicle entering the intersection that doesn't have enough space to stop. In either case, the driver who ran the red light is usually at fault for the resulting collision.
Another common cause of T-bone accidents is a driver attempting to make a left turn and subsequently hitting the side of a vehicle traveling straight ahead. Typically, the driver making the left turn will be held at fault for the T-bone accident, as they failed to yield the right of way to traffic proceeding straight ahead.
However, not all T-bone accidents are as clear-cut as these examples. In these instances, additional evidence can be vitally important to establishing fault, such as:
Police accident reports
Eyewitness statements
Traffic or surveillance camera footage
Drivers' dashcam footage
Accident scene photos, including those of details like vehicle damage, skid marks on the road, and the traffic controls at the scene of the crash
Accident reconstruction reports, written by experts who evaluate evidence from the accident to provide an opinion, based on scientific principles, as to how the accident occurred and who was responsible for causing the crash
T-Bone Car Accident Settlement
No attorney can tell you exactly how much money you might receive in a settlement in your T-bone accident claim without a detailed investigation into the circumstances and outcomes of the crash in question. The amount of compensation to which you might be entitled depends on factors such as who is responsible for the crash, whether you were somewhat negligent in causing the accident, the severity of your injuries and vehicle damage, and the amount of insurance coverage or personal assets the at-fault driver has.
If you suffered relatively minor injuries, you might obtain a lower settlement. However, if you sustained severe injuries that require a lengthy recovery, a settlement may involve more significant compensation. Victims of T-bone accidents who suffer significant permanent disabilities can pursue substantial compensation to pay for the lifetime care they will need after being hurt in a catastrophic T-bone accident.
Depending on the specific losses that you sustained, you may be entitled to a settlement that provides you compensation for:
Costs of medical treatment and rehabilitation of injuries, including emergency care, surgeries or other procedures, prescription medication, doctor's appointments, physical therapy, and purchases of medical devices or mobility equipment
Costs of long-term medical and personal care if you suffer serious permanent disabilities due to your injuries
Loss of wages or income if you miss time from work while recovering from the injuries you suffered in the accident
Loss of future earning capacity and employment benefits if you are permanently disabled and can no longer work in the same field
Loss of enjoyment and quality of life due to chronic physical pain, emotional trauma, and distress, diminished quality of life due to physical scarring or disfigurement, or difficulties with daily living due to physical disabilities
Costs to repair your vehicle, or the pre-accident value of your car if the costs of repairs exceed that value
A Greensboro, NC T-bone accident lawyer from Hardison & Cochran can review the details of your case and document your losses so that you better understand what a fair T-bone car accident settlement or verdict could entail.
What to Do After a T-Bone Accident
Taking certain steps following a T-bone accident can help protect your legal options for pursuing financial recovery from the driver or drivers who hurt you. These steps include:
Taking photos or video of the accident scene with your cell phone, if you can. Remember to document details such as vehicle damage, skid marks on the road, road lines and traffic signs/signals, and weather and lighting conditions at the time of the accident.
Seeking medical attention as soon as possible after the crash. You will want a doctor to examine you for injuries you sustained in the crash so that you receive prompt treatment and document your injuries. Take photos of any visible injuries. Follow the treatment instructions and recommendations given to you by your doctors.
Keep copies of medical invoices, vehicle repair bills, and your income records to help document the financial losses you've incurred due to the accident. Also, consider keeping a journal to document the pain and daily difficulties you experience due to your injuries.
Stay off social media and avoid discussing the accident, your injuries, or your case in public. Insurance companies often monitor accident victims' social media accounts for anything that might contradict the formal allegations they have made in their insurance claim or lawsuit.
Finally, make time to speak to a T-bone accident lawyer in Greensboro from Hardison & Cochran. We offer free consultations, so it won't cost you anything to learn more about your rights and what you can do to demand the compensation you deserve.
Contact Our T-Bone Accident Lawyers for Help
If you have suffered injuries in a T-bone car accident, contact the car accident lawyers in Greensboro at Hardison & Cochran for step-by-step guidance in your case. Call us at 252-333-3333 for a free initial case evaluation. Our firm can help you pursue a legal claim to recover the compensation you need and deserve.