Defective Airbag Lawyers in North Carolina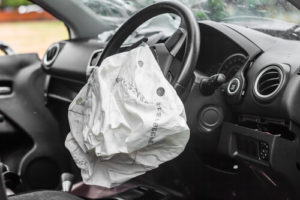 Tens of millions of cars and trucks produced by 19 different automakers have been recalled because of airbags that may explode when deployed. The Japanese auto parts supplier Takata Corp. is responsible for the faulty parts in the airbags. The chemicals in Takata airbag inflators can deteriorate over time, causing an explosion and serious injuries from metal shrapnel. The risk of injury is a particular concern in southern states such as North Carolina where prolonged exposure to high temperatures and humidity can cause the chemicals to degrade more quickly.
The deadly airbags have been linked to more than 300 injuries and 15 deaths to date, according to the National Highway Traffic Safety Administration (NHTSA). When defective airbags and other automotive components cause injury, the manufacturers of the defective product should pay for the harm caused.
The attorneys at Hardison & Cochran are investigating motor vehicle accidents in North Carolina causing injuries or deaths that involved recalled vehicles in which the airbags deployed. If you or a loved one has been injured in a crash involving a vehicle that is on the airbag recall list, please contact us for a free evaluation of your legal options. Auto manufacturers and makers of automotive components have a legal obligation to produce vehicles that are safe.
Listing of Vehicles with Potentially Defective Airbags
The Takata airbag recall is the largest and most complex automotive recall in U.S. history, involving nearly 40 million vehicles manufactured by 19 different manufacturers. More airbags are scheduled to be recalled by December 2019, increasing the total number of airbags recalled to 65 million to 70 million, according to the NHTSA.
The airbag recall currently applies to the following make and model year vehicles:
Acura (Honda)
2003 Acura 3.2CL
2002-2003 Acura 3.2TL
2013-2016 Acura ILX
2013-2014 Acura ILX Hybrid
2003-2006 Acura MDX
2007-2016 Acura RDX
2005-2012 Acura RL
2009-2014 Acura TL
2009-2014 Acura TSX
2010-2013 Acura ZDX
Audi (VW)
2006-2013 Audi A3
2005-2008 Audi A4 Avant
2007-2009 Audi A4 Cabriolet
2005-2008 Audi A4 Sedan
2010-2012 Audi A5 Cabriolet
2006-2011 Audi A6 Avant
2005-2011 Audi A6 Sedan
2009-2012 Audi Q5
2017 Audi R8
2008 Audi RS 4 Cabriolet
2007-2008 Audi RS 4 Sedan
2005-2008 Audi S4 Avant
2007-2009 Audi S4 Cabriolet
2005-2008 Audi S4 Sedan
2010-2012 Audi S5 Cabriolet
2007-2011 Audi S6 Sedan
2016-2017 Audi TT
BMW
2008-2013 BMW 1 Series
2000-2013 BMW 3 Series
2001-2003 BMW 5 Series
2013-2015 BMW X1
2007-2010 BMW X3
2001-2003 BMW X5
2007-2013 BMW X5
2008-2014 BMW X6
2010-2011 BMW X6 Hybrid
Cadillac (GM)
2007-2014 Cadillac Escalade
2007-2014 Cadillac Escalade ESV
2007-2013 Cadillac Escalade EXT
Chevrolet (GM)
2007-2013 Chevrolet Avalanche
2007-2014 Chevrolet Silverado HD
2007-2013 Chevrolet Silverado LD
2007-2014 Chevrolet Suburban
2007-2014 Chevrolet Tahoe
Chrysler
2005-2015 Chrysler 300
2007-2009 Chrysler Aspen
2007-2008 Chrysler Crossfire
Daimler Trucks North America (Sterling Bullet)
2008-2009 Sterling Bullet
Daimler Vans USA LLC (Sprinter)
2007-2009 Dodge Sprinter
2007-2017 Freightliner Sprinter
2010-2017 Mercedes-Benz Sprinter
Dodge/Ram (Chrysler)
2008-2014 Dodge Challenger
2006-2015 Dodge Charger
2005-2011 Dodge Dakota
2004-2009 Dodge Durango
2005-2008 Dodge Magnum
2003-2008 Dodge Ram 1500/2500/3500 Pickup
2005-2009 Dodge Ram 2500 Pickup
2007-2010 Dodge Ram 3500 Cab Chassis
2006-2009 Dodge Ram 3500 Pickup
2008-2010 Dodge Ram 4500/5500 Cab Chassis
Ferrari
2010-2015 Ferrari 458 Italia
2014-2015 Ferrari 458 Speciale
2015 Ferrari 458 Speciale A
2012-2015 Ferrari 458 Spider
2016-2017 Ferrari 488 GTB
2016-2017 Ferrari 488 Spider
2009-2014 Ferrari California
2015-2017 Ferrari California T
2013-2017 Ferrari F12
2016-2017 Ferrari F12 tdf
2016 Ferrari F60
2012-2016 Ferrari FF
2017 Ferrari GTC4Lusso
Fisker (Karma)
Ford
2007-2010 Ford Edge
2006-2012 Ford Fusion
2005-2006 Ford GT
2005-2014 Ford Mustang
2004-2011 Ford Ranger
GMC (GM)
2007-2014 GMC Sierra HD
2007-2013 GMC Sierra LD
2007-2014 GMC Yukon
2007-2014 GMC Yukon XL
Honda
2001-2012 Honda Accord
2001-2011 Honda Civic
2003-2011 Honda Civic Hybrid
2001-2011 Honda Civic NGV
2010-2015 Honda Crosstour
2002-2011 Honda CR-V
2011-2015 Honda CR-Z
2003-2011 Honda Element
2010-2014 Honda FCX Clarity
2007-2013 Honda Fit
2013-2014 Honda Fit EV
2010-2014 Honda Insight
2002-2004 Honda Odyssey
2003-2015 Honda Pilot
2006-2014 Honda Ridgeline
Infiniti (Nissan)
2003-2008 Infiniti FX
2001 Infiniti I30
2002-2004 Infiniti I35
2006-2010 Infiniti M
2002-2003 Infiniti QX4
Jaguar
Jeep (Chrysler)
Land Rover (Jaguar Land Rover)
2007-2012 Land Rover Range Rover
Lexus (Toyota)
2007-2012 Lexus ES350
2010-2017 Lexus GX460
2006-2013 Lexus IS250/350
2010-2015 Lexus IS250C/350C
2008-2014 Lexus IS F
2012 Lexus LFA
2002-2010 Lexus SC430
Lincoln (Ford)
2006-2012 Lincoln Zephyr/MKZ
Mazda
2004-2009 Mazda B-Series
2007-2012 Mazda CX-7
2007-2015 Mazda CX-9
2003-2015 Mazda 6
2006-2007 Mazda Mazdaspeed6
2004-2006 Mazda MPV
2004-2011 Mazda RX-8
McLaren
2016-2017 McLaren 570
2015-2016 McLaren 650S
2016 McLaren 675LT
2012-2014 McLaren MP4-12C
2011 McLaren P1TM
2013-2015 McLaren P1TM
Mercedes-Benz
2005-2015 Mercedes-Benz C-Class
2010-2011 Mercedes-Benz E-Class
2011-2017 Mercedes-Benz E-Class Cabrio
2010-2017 Mercedes-Benz E-Class Coupe
2009-2012 Mercedes-Benz GL-Class
2010-2015 Mercedes-Benz GLK-Class
2009-2011 Mercedes-Benz ML-Class
2009-2012 Mercedes-Benz R-Class
2007-2008 Mercedes-Benz SLK-Class
2011-2015 Mercedes-Benz SLS-Class
Mercury (Ford)
Mitsubishi
2012 Mitsubishi i-MiEV
2014 Mitsubishi i-MiEV
2016-2017 Mitsubishi i-MiEV
2004-2007 Mitsubishi Lancer
2004-2006 Mitsubishi Lancer Evolution
2004 Mitsubishi Lancer Sportback
2006-2009 Mitsubishi Raider
Nissan
2001-2003 Nissan Maxima
2002-2004 Nissan Pathfinder
2002-2006 Nissan Sentra
2007-2012 Nissan Versa
Pontiac (GM)
Saab (GM)
2005-2006 Saab 9-2x
2006-2011 Saab 9-3
Saturn (GM)
Scion (Toyota)
Subaru
2003-2006 Subaru Baja
2009-2013 Subaru Forester
2004-2011 Subaru Impreza (Including WRX/STI)
2003-2014 Subaru Legacy
2003-2014 Subaru Outback
2006-2014 Subaru Tribeca
2012-2014 Subaru WRX/STI
Tesla
Toyota
2010-2016 Toyota 4Runner
2003-2013 Toyota Corolla
2003-2013 Toyota Corolla Matrix
2004-2005 Toyota Rav4
2002-2007 Toyota Sequoia
2011-2014 Toyota Sienna
2003-2006 Toyota Tundra
2006-2011 Toyota Yaris (Hatch Back)
2007-2012 Toyota Yaris (Sedan)
Volkswagen
2009-2017 Volkswagen CC
2010-2014 Volkswagen Eos
2010-2014 Volkswagen Golf
2013 Volkswagen Golf R
2009-2013 Volkswagen GTI
2012-2014 Volkswagen Passat
2006-2010 Volkswagen Passat Sedan
2006-2010 Volkswagen Passat Wagon
2017-2018 Volkswagen Tiguan
Even with the recall, many vehicles with potentially defective and deadly Takata airbags remain on the road. Certain 2001-2003 Honda and Acura vehicles, 2006 Ford Rangers and Mazda B-Series trucks are at far higher risk of airbag ruptures and explosions that could kill or seriously injure drivers and passengers. The vehicle makes and models are:
2001-2002 Honda Civic
2001-2002 Honda Accord
2002-2003 Acura TL
2002 Honda CR-V
2002 Honda Odyssey
2003 Acura CL
2003 Honda Pilot
Certain 2006 Ford Rangers (Ford will tow vehicle free of charge for repair)
Certain 2006 Mazda B-Series (Mazda will tow vehicle free of charge for repair)
The NHTSA warns vehicle owners not to drive these vehicles except to take them directly to the dealer for repair.
If you are uncertain whether your vehicle is affected by the Takata recalls, visit the National Highway Traffic Safety Administration website to search by the vehicle identification number (VIN) to confirm whether your vehicle is part of an open recall. If your vehicle is part of the airbag recall, call your local dealer immediately to schedule a free repair.
Nissan Airbag Recall
In a separate airbag recall, Nissan had issued a recall for 3.18 million vehicles in the United States because of an airbag sensor defect that may be preventing the front passenger-side airbags in certain vehicles from inflating in an accident.
The problem is with the occupant classification system, the sensor that disables the airbag if the passenger seat is unoccupied. The sensor has a defect, causing it to fail to detect an adult passenger sometimes and to deactivate the airbags.
Nissan has received more than 1,000 complaints about the sensor issue.
The recall involves the following Nissan North America, Inc. vehicles:
2013 Infiniti JX35
2014-2016 Infiniti Q50
2014-2016 Infiniti QX60
2013-2016 Nissan Altima
2013-2016 Nissan Leaf
2016-2017 Nissan Maxima
2013-2016 Nissan NV200
2014-2016 Nissan NV200 Taxi
2013-2017 Nissan Pathfinder
2014-2017 Nissan Rogue
2013-2016 Nissan Sentra
2015-2016 Chevrolet City Express
The car accident attorneys at Hardison & Cochran have been closely monitoring the Nissan airbag recall and are accepting inquiries from concerned consumers in North Carolina.
Contact a North Carolina Airbag Recall Attorney
If you have been injured by a faulty airbag, regardless of whether your vehicle is a part of the Takata recall, you should seek qualified legal assistance. The attorneys at Hardison & Cochran are investigating car accidents involving airbag failures in North Carolina. Our law firm is dedicated to protecting the rights of individuals who have been harmed by defective and dangerous products.
Contact us today by phone or through our online form for experienced legal assistance. We will respond promptly and provide a free legal review.
Testimonials
I contacted Mr. Hardison and I found a lifeline when they accepted my case anytime I had a problem or question, I would call Mr. Hardison. My case was settled, but I know I still can call and keep in touch if I need them.
Review by: Sylvia Womack
Rating: ★★★★★5 / 5 stars