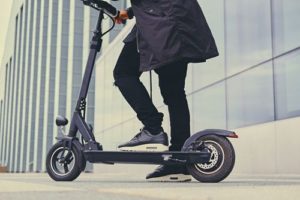 Electric scooters deployed by the scooter companies Bird and Lime began appearing on the streets and sidewalks of Raleigh last year. As soon as the scooters appeared, questions arose about their safety.
The two-wheel scooters travel at speeds of up to 15 miles per hour with the rider standing on a footboard. They are a trendy form of urban transportation available for hourly rental with a smartphone app. In the past year, there have been several reported scooter injuries in Raleigh.
Injuries may occur from scooter riders falling from the vehicles, colliding with a stationary object, being struck by a car or truck, or hitting a pedestrian on a sidewalk.
Emergency responders in Raleigh responded to more than 20 serious crashes resulting in scooter injuries in the first several months after the scooters were available to rent. Raleigh police said scooters were involved in 31 crashes from July through December 2018.
The surge in emergency room visits and reports of serious injuries including broken bones and head injuries seems to be a trend among cities where electric scooters are introduced. If you or a loved one has sustained injuries in a scooter accident in Raleigh you should contact an experienced attorney at Hardison & Cochran to review the details of your scooter accident and explain your legal rights.
First Published Medical Study of Scooter Injuries
Researchers at the University of California Los Angeles Medical Center analyzed data from two emergency departments from Sept. 1, 2017, to Aug. 31, 2018, and found that 249 people required medical care from scooter accidents including 228 scooter riders and 2 pedestrians who were struck by scooters.
Dr. Tarak Trivedi, an emergency room doctor at UCLA who led the study, said that a third of patients who were treated at UCLA for injuries in scooter accidents arrived at the hospital in an ambulance and had significant injuries beyond minor scrapes and cuts.
Most injuries occurred as a result of falls from the scooters, which riders stand on while riding. Some injuries resulted from scooter riders being hit by moving vehicles and some resulted from collisions with stationary objects. Of the total scooter injuries that the researchers documented in the study, 40 percent were head injuries, 32 percent were bone fractures and the remaining 28 percent were cuts, sprains and bruises.
While the scooter companies recommend that riders wear helmets, helmet use is not required to rent a scooter. The UCLA study, which appeared in JAMA Network Open, a peer-reviewed medical journal, is the first published study of scooter injuries. It found only a small percentage of riders were wearing helmets when accidents occurred.
The companies that own the scooters market them as a convenient, inexpensive, environmentally friendly transportation alternative that reduces short-distance car trips and carbon emissions. The scooters do not have to be returned to a specific location. The scooter companies hire contractors to track down the scooters using GPS technology at night and reposition the scooters for the next day.
City of Raleigh Adopts Scooter Ordinance
In November, the Raleigh City Council passed an ordinance allowing motorized scooters to use bicycle lanes and prohibiting the scooters on city sidewalks and greenways. The city required the companies to pay a $300 fee per scooter and an administrative fee to help with scooter safety education and enforcement of scooter regulations. The city is developing educational materials to help familiarize people with the rules of riding scooters.
Last year, the Washington Post interviewed emergency-room doctors in seven cities, including Austin, Nashville and Atlanta, and the trauma room physicians in each city reported an increase in serious accidents after e-scooters appeared on their city's streets. A few scooter crashes have resulted in fatal injuries.
At the request of city leaders in Austin, where as many as 14,000 scooters are available for rent, the Centers for Disease Control and Prevention (CDC) is currently doing a study of scooter-related accidents and injuries. CDC researchers began contacting 258 individuals who visited emergency rooms with scooter-related accidents to collect more information about the circumstances of the accidents and contributing factors.
The findings of the CDC study, which is expected to be published later this year, may be influential as cities across the country try to develop municipal policies to regulate the new form of transportation and prevent injuries from e-scooters.
Contact a Raleigh Scooter Injury Lawyer
Our accident attorneys at Hardison & Cochran are committed to making scooter safety a priority in our community.
If you or a loved one has sustained injuries in a scooter accident in Raleigh caused by someone else's carelessness or negligence, you may be entitled to seek compensation for your medical bills and other losses. You should contact an experienced attorney at Hardison & Cochran to review the details of your scooter accident and explain your legal rights.
If you have been injured in a scooter accident that was not your fault, contact the Raleigh scooter accident lawyers at Hardison & Cochran today.