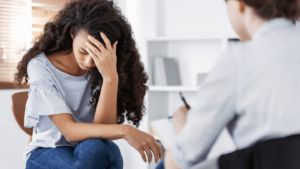 Post-traumatic stress disorder, or PTSD, is a mental health condition that affects millions of Americans. While PTSD is commonly associated with military veterans, it can affect anyone who has been through a violent or traumatic event.
You do not have to suffer in silence if you have PTSD after a traumatic experience. The legal team at Hardison & Cochran in North Carolina is committed to increasing PTSD awareness. Keep reading to learn more about PTSD, or contact us for a free consultation.
Learn More About PTSD
If you are coping with PTSD or helping a family member who is experiencing symptoms, you may find the following topics helpful in understanding what causes PTSD and determining the best route for treatment.
PTSD in-patient treatment – Treating PTSD can be an enormous challenge. In-patient treatment programs provide PTSD patients with a structured environment where they can work closely with mental health professionals to handle the overwhelming emotions and thoughts they often experience.
PTSD flashbacks – One of the most common and disturbing symptoms of PTSD is flashbacks of the traumatic event. These memories can be so vivid that the patient feels like they are experiencing the traumatic event gain. Learning to process these flashbacks and avoid potential triggers is crucial to treating PTSD.
PTSD among nurses – You do not have to be directly exposed to a traumatic event to develop PTSD. Nurses, especially those in emergency departments, are among the groups most likely to develop PTSD. Many nurses are exposed to the consequences of violent physical trauma. That secondary exposure can lead to PTSD.
PTSD from infidelity – PTSD is often the result of physical trauma, but severe psychological stress can also lead to PTSD. Learning your spouse or significant other has cheated on you can cause considerable psychological harm, and in some cases.
PTSD from workplace accidents – People injured on the job may experience trauma that prevents them from returning to work. Most employers are required to carry workers' compensation insurance. It may cover the cost of treatment for PTSD related to a physical injury.
Sexual abuse PTSD – Rape and sexual abuse often result in physical and emotional injuries. It is common for rape and sexual abuse survivors to experience flashbacks, intense feelings of guilt or shame, and other PTSD symptoms.
Military sexual abuse PTSD – According to the New York Times, nearly 25 percent of all servicewomen report being sexually abused or assaulted in the military. Military personnel may experience additional guilt and shame from being pressured to stay quiet about the sexual abuse they experienced.
PTSD among veterans – According to the Department of Veterans Affairs (VA), more than 10 percent of military veterans have PTSD, depending on the era in which they served. Among veterans of the wars in Iraq and Afghanistan, up to 20 percent of those who served have PTSD.
PTSD disability for veterans with PTSD – In response to growing awareness of PTSD among veterans, the VA has begun offering disability benefits to those with PTSD.
PTSD suicide and suicide rates – There is a high rate of suicide among patients with PTSD, particularly those who do not receive treatment and may find the pain too difficult to bear. Research indicates a PTSD diagnosis is strongly correlated with an increased risk of suicide, particularly among military veterans. A 2017 report from the VA found that people with PTSD were 13 times more likely to die by suicide than people without PTSD.
Call Hardison & Cochran Today If You Are Suffering from PTSD
If you have PTSD, the team at Hardison & Cochran wants to help you pursue the medical treatment and financial relief available to you. Contact us today for a free consultation.