If you have little ones at home, no doubt both you and your children are looking forward to Halloween. The days leading up to Oct. 31 include picking out a costume for your little goblin or princess, carving a pumpkin, stocking up on candy, and planning the route your trick-or-treaters will follow. Another item on your to-do list should be familiarizing yourself with Halloween safety tips.  Accidents and injuries are common around Halloween, and can happen due to a variety of reasons.  At Hardison & Cochran, we are committed to making North Carolina communities as safe as possible so we have compiled a parents' guide to a safe and fun Halloween. You will find all the information you need to keep the holiday safe for your little ghost or goblin this year.
Halloween Safety Information for Parents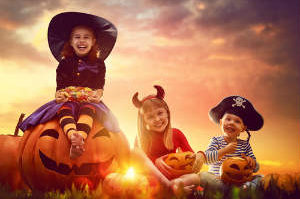 If you are the parent of a young trick-or-treater or if this is your child's first year going out on Halloween, you likely have a number of concerns about how to keep your child safe. Every year, the news media reports warnings of dangers associated with Halloween. The biggest threat your child is likely to face is from passing cars and motorists. According to a 2015 US News and World Report article on Halloween accidents, children are more than twice as likely to be the victims of serious pedestrian accidents during Halloween than at any other time of the year. Many towns and cities hold Halloween festivities at sunset or after dark, making it more difficult for children to be visible to motorists. As adults head out to Halloween costume contests and parties, accidents involving drunk drivers are more likely to occur. In addition to vehicle accidents, parents should be aware of other common Halloween accident situations:
Injuries due to tripping over Halloween costumes;
Fall accidents due to uneven sidewalks and cluttered walkways when going door to door;
Burn injuries and fires resulting from candles or bonfires;
Cuts and wounds resulting from Halloween props, such as swords and wands.
2023 Halloween Safety Tips for Parents
Parents should focus on certain preventive steps to minimize accident risks on Halloween:
Picking The Right Costume in North Carolina
Whether you make your child's costume or opt for a store-bought costume, there are a number of factors to consider to make sure your child stays safe. Care.com offers these 2019 Halloween costume safety tips for parents.
If you purchase a costume from a store, read the packaging to make sure the material is flame resistant;
Make sure the costume fits correctly and does not restrict movement;
Avoid long, flowing fabrics and capes that drag along the ground, which could present tripping hazards;
When selecting a mask, avoid latex and make sure your child's vision and breathing are not restricted;
Makeup is often safer than a mask, but always apply makeup to a small patch of skin first as a test to prevent allergic reactions;
Your trick-or-treater will be doing a lot of walking, so make sure they wear sensible shoes;
Use caution in choosing Halloween props, such as broomsticks, wands, or spears.
Getting Your Home Ready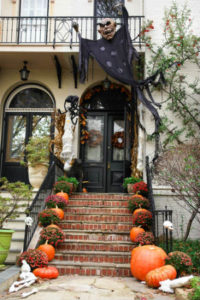 As a homeowner, you can be held legally responsible for any injuries that occur on your property. For the sake of your own children as well as the trick-or-treaters who visit your home, make sure to remove any potential hazards which could result in injuries:
Use electric candles for your pumpkin and other decorations to avoid the chances of fire;
Make sure any electrical wires or lighting extension cords are covered to prevent trips;
Keep walkways uncluttered, and make sure paving stones are even;
Make sure your entranceway is well lighted, and that all handrails are firmly attached;
Avoid Halloween displays that could startle guests and cause them to lose their footing;
If you are planning an adult Halloween party, make sure your driveway is well lit, and plan your party later in the evening, after trick or treating is over.
Pedestrian Safety
For children and adults, pedestrian safety is a top priority. According to the National Safety Council (NSC), little trick-or-treaters are likely to be distracted by all the excitement, making it more likely for them to step into the path of oncoming traffic. The Safety Council recommends the following Halloween safety tips for parent to prevent accidents:
Always accompany children under the age of 12 when trick-or-treating;
Young children should hold your hand at all times;
For toddlers who tire easily, use a stroller or wagon;
Children over 12 should go out in groups, and report in regularly;
Use reflective tape on costumes, glow sticks, and flashlights to increase youngsters' visibility;
Stay on the sidewalk and use designated crosswalks at intersections to cross streets;
Map the route you will take, and go to residential streets only;
If hosting a party, serve plenty of food and avoid over serving guests alcohol to prevent drunk driving accidents.
Once your children return home from trick-or-treating, check the goodies they have collected to make sure none of the packaging has been tampered with, and throw out anything that is not in a sealed package.
Our North Carolina Accident Attorneys Are Here When You Need Us
At Hardison & Cochran, we are here for your family when you need us. In the event you or someone you love suffers an accident injury or is hurt due to the reckless actions of another, contact our North Carolina injury attorneys right away. We provide the aggressive legal representation you need to assist you in getting the compensation you deserve.