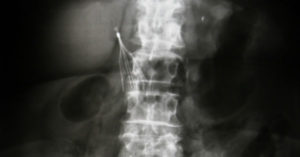 A recent investigation by NBC News raises troubling questions about whether the manufacturer of a widely-used blood clot filter ignored early warning signs of potentially fatal flaws in the filter and exposed patients to preventable harm.
The Recovery filter, manufactured by medical device manufacturer C.R. Bard, Inc., is a metal trap that resembles a spider and is placed in the largest vein in the body to block blood clots from reaching the heart or lungs. It was used on patients at high risk of blood clots. Bard sold about 34,000 filters over three years before replacing the product with a redesigned filter.
The NBC News report details cases in which the filters dislodged or broke apart and pieces pierced the hearts of patients who had them implanted. One patient had to undergo emergency open heart surgery to remove a piece of metal that had broken off from the filter and pierced her heart. She survived, but other patients died.
More than Two Dozen Deaths, Hundreds of Injuries Link to Recovery Filter
NBC reports that the defective filters manufactured by medical device manufacturer C.R. Bard are associated with at least 27 deaths and 300 reported problems. Bard is one of approximately a dozen companies that market IVC filters in the U.S.
A medical assessment of the filter commissioned by Bard found that the Recovery filter posed higher relative risks of filter fracture, movement once implanted, and death than all the comparable filters made by other manufacturers.
According to the NBC report, Bard hired Kay Fuller, who had expertise in guiding medical products through the regulatory approval review process of the Food and Drug Administration (FDA), after the FDA initially turned down the product.
According to the report, Fuller became concerned about the Recovery blood clot filter product when the company failed to provide her with requested company test results and results of a human clinical trial.
Fuller said she was shocked when she was told that if she continued to pursue those types of questions, she would be removed from the regulatory submittal team. Fuller said she reported her safety concerns about the product to the FDA before leaving the company. She said someone else signed her name to the FDA product approval application because she refused to sign it.
Bard stopped selling the Recovery filter in 2005, but more than 20,000 people have the filters implanted in their bodies.
North Carolina Injury Attorneys Investigating IVC Filter Injury Claims
The defective medical device attorneys at Hardison & Cochran are dedicated to holding accountable manufacturers that put defective medical products on the market and fail to warn consumers of the harm the products can cause.
Medical manufacturers have a legal responsibility to make and market products that are safe and effective and to warn of potential hazards. Patients who are harmed by defective medical products and the families of those who die from defective products should be compensated for the harm they have suffered.