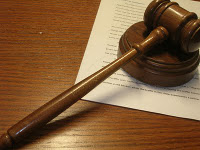 Yesterday in the North Carolina General Assembly, the House voted in favor of changes to the North Carolina Workers' Compensation Act. The bill, which has changed from its original filing in April of 2011, passed with a vote of 102 in favor and 12 opposed. Before the bill moves to the Senate there will be a final vote in the House which is expected to be later this week. If the bill is favorable in the Senate, this would mark the first major changes to the North Carolina Workers' Compensation Act since 1994.
The main change the bill proposes is a 500 week (roughly 9 1/2 year) cap on disability benefits for injured workers in the state. In the original bill, specific severe injuries were the exception to the cap. The version which was voted on yesterday includes a provision for "extended compensation" for workers who can prove that their capacity to earn wages is lost. Other changes include:
Expanding an employers' access to an injured worker's doctor
Extending benefits to dependents of the injured worker from 400 to 500 weeks.
Workers killed on the job burial expenses will rise from $3,500 to $10,000.
To see the full text of the bill which was voted on yesterday, please click here.
More information on North Carolina House Bill 709: