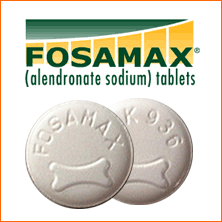 What is Fosamax?
Fosamax is used for the prevention and treatment of osteoporosis. It can also be prescribed in the relief of Paget's dieses of the bone.
What is osteoperosis and Paget's diesease?
Osteoporosis is a disease of the bones. When the disease is present, the bone mineral density is reduced. Simply, the bones become porous (filled with holes), thinner and become weak. Due to this, the bones have a much higher chance of breaking. Osteoporosis is most common in women after menopause, but the disease can also affect men.
Paget's disease is a chronic bone condition where the normal remodeling of the bone is disturbed. Remodeling means the synchronized process of the body laying new bone and taking up old bone. When Paget's is present, like stated above, this process is interpreted. As a result, the new bone which is formed is abnormal, enlarged, not as dense and more prone to break.
Fosamax Use and Femur Fractures
A March 2009 article in "Drug Safety Update" shared these findings in connection with taking bisphosphonates and Fosamax.
Atypical stress fractures (also known as insufficiency fractures) of the proximal femoral shaft have been reported in patients treated long-term with alendronic acid (in most cases, time to onset ranged from 18 months to 10 years)
Fractures occurred after minimal or no trauma, and some patients experienced thigh pain weeks to months before presenting with a completed femoral fracture. Fractures were frequently bilateral; therefore the contralateral femur should be examined in patients treated with alendronic acid who have a femoral shaft fracture. Poor healing of these fractures was also reported
Dr. Kenneth Egol, professor of orthopedic surgery at NYU Langone Medical Center said the following concerning Fosamax in an ABCNews article: "We are seeing people just walking, walking down the steps, patients who are doing low-energy exercise. Very unusual, the femur is one of the strongest bones in the body.