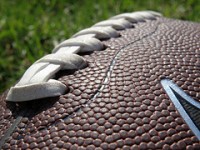 Thanksgiving and football. For some, it's hard to imagine getting together with their folks on Thanksgiving and not having the game on in at least one room in the house. The history of these two may go back a little further than you think. Okay, history time with links:
Alright, so now that the history lesson is over, let's get to what this post is all about: The Thanksgiving 2013 Football Line-Up. Below, we have listed each game in chronological order along with our scientific Turkey Leg ratings system. 5 turkey legs is a must see game while 1 turkey leg might induce a little post turkey nap time. Let's go…
(NFL) Green Bay @ Detroit [12:30pm FOX] The old classic. From 1951 to 1963 these two teams played each other on Thanksgiving Day, so a lot of history going on here. The Green Bay Packers history might be a little brighter, but that's another story. As for the 2013 edition of this game, the Packers come limping in with a slew of injuries and a, 0-3-1 record in the past four games. There was some hope Green Bay would get their star QB Aaron Rodgers back for this game, but according to Green Bay's head coach, Rodgers chances of playing are "slim to none."
Detroit comes into the game with a share of the lead in the NFC North division, but with back-to-back losses to Pittsburgh and Tampa Bay, both under .500 teams, in the two previous weeks. The high flying offense led by Calvin Johnson, Matt Stafford and Reggie Bush are all healthy for this game, so if big plays and big yards is your thing, this will be one to watch as the game will be played in Detroit in a dome.
The NFC North is still wide open as Green Bay, Detroit and Chicgao are only a couple games within each other. Even with Aaron Rodgers out this will still be a fine Thanksgiving Football game. These two teams are very familiar with each other and Detroit will be attempting to even the score from a 22-9 loss to Green Bay earlier in the season. Calvin Johnson was out due to injury in the first meeting, so lookout on Thursday.
Being on turf coupled with the NFC North title fight, we'll serve up four turkey legs for this game.


(NFL) Oakland @ Dallas [4:30pm CBS] In this game, we have one team playing for pride while the other is fighting to keep the lead in the NFC East. But both head coaches in the game are fighting to keep their job. Let's start with the 4-7 Oakland team. Due to poor performance, the guy who Oakland thought was going to be their starting QB  was benched early in the season for a player who was not selected in the traditional draft. That player, who provided them with some offensive fireworks,  is hurt. Now, Oakland must turn once again to a guy who wasn't even drafted at all.  Matt McGloin, "the guy who wasn't even drafted at all", doesn't come into this game all green. He's already broke the heart of one Texas-based pro football team when he defeated Houston 28-23.
Dallas comes in over .500 and with the lead in the wildly mediocre NFC East. While Dallas might not get mistaken for one of the best teams in the league, they know how to make a game exciting. In their last four, Dallas is 2-2. One loss was a total blowout by New Orleans, but the games against Detroit, Minnesota and New York (NFC), all were exciting down to the last play with Dallas beating Minnesota and New York.
That flair for the dramatic is what we're looking for on Thanksgiving Day football. It doesn't have to be the best teams in the league, it just has to be a fun competitive game. Unfortunately for us, it looks like Dallas might not need a Thanksgiving Miracle to pull this one off. We're going to go ahead and give this game 2.5 turkeys with a halftime turkey nap and a third quarter pumpkin pie run. Extra Cool Whip.


(NFL) Pittsburgh @ Baltimore [8:30pm NBC] Alright, now to the night cap. With the 8:30 start, this game might be coming on when you're putting up your Holiday decorations, so you might want to plan accordingly. If you're in North Carolina you might want to start you up a fire as temperatures are expected to get into the low 30's Thursday night. But enough about local weather, how about this football game? If you like ground and pound football, avert your eyes from this game. Some quick facts for you: The Pittsburgh offense averages around 77 yards per game rushing. The Baltimore offense averages around 81 yards on the ground per game.  The average NFL offense gains around 111 rushing yards per game in the 2013 season. You do the math. Not so good.
Here's the thing, both of these teams are still in the hunt for a playoff spot. Baltimore and Pittsburgh, both 5-6 on the season, sit right on the fringe of the AFC Wild Card picture. Even an all out AFC North division title isn't out of the question for these two teams. Like we stated above, for Thanksgiving football, it doesn't have to be the best teams in the league to get five turkey legs, it just has to be set up to be an awesome game. Well, right here it is. The must watch, five turkey leg Game of Thanksgiving.
Being division rivals, these two teams played previously this year and Pittsburgh came away with a slim 19-16 victory. Look for a similar point differential in Thursday's game.