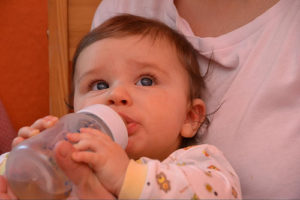 Yesterday, the Center for Behavioral Health and the Center for Injury Research and Policy at Nationwide Children's Hospital released a study of injuries associated with baby bottles, pacifiers and sippy cups. The data from 1991 to 2010 showed that a child under three years old visited the emergency room every four hours for injuries from the aforementioned products. More stats below:
Most Common Product Present in Injury:
Baby Bottles (66% of injuries)
Pacifiers (20% of injuries)
Sippy Cups (14% of injuries)
Most Common Body Regions Injured: 
Mouth (71% of injuries)
Head, Neck, Face (20% of injuries)
Eighty-six percent of the injuries were sustained during a fall. The Nationwide's Children website has the following quote from one of the study's authors Sarah Keim PhD, MA, MS: "Two-thirds of injuries examined in our study were to one-year-old children who are just learning to walk and more prone to falls." If you have a baby in the family, make sure he or she is sitting when using one of these products. While every injury might not be avoided, making sure of this will without a doubt cut down on ER visits in the future.
"Educating parents and caregivers about the importance of transitioning their children away from these products at the ages recommended by the AAP and AAPD could prevent up to 80 percent of the injuries related to baby bottles, pacifiers and sippy cups," said Lara McKenzie, PhD, who served as Keim's partner on the study.
Recommendations from the American Academy of Pediatrics:
12-15 months: transition from bottle to cup
Additional Reading:
Photo Credit: mueritz via Flickr Creative Commons